WMO Combats Covid in India
As the devastating second wave of the Corona pandemic batters India, overwhelming healthcare facilities and despairing families scramble to source oxygen, medicine and hospital beds for their loved ones, the crematoriums and graveyards are unable to keep pace with the rising number of deaths.
The 𝙒𝙤𝙧𝙡𝙙 𝙈𝙚𝙢𝙤𝙣 𝙊𝙧𝙜𝙖𝙣𝙞𝙨𝙖𝙩𝙞𝙤𝙣 𝙄𝙣𝙙𝙞𝙖 𝘾𝙝𝙖𝙥𝙩𝙚𝙧 has been on the frontlines as the nation battles a rampant pandemic.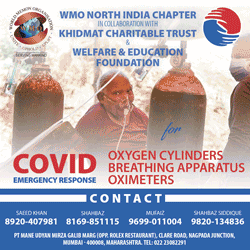 𝙊𝙭𝙮𝙜𝙚𝙣 is the most precious commodity in India today. Most fatalities have occurred due to steep falls in oxygen levels in the body, leaving patients gasping for air. High capacity oxygen cylinders, breathing apparatuses and oximeters have been delivered to the ailing.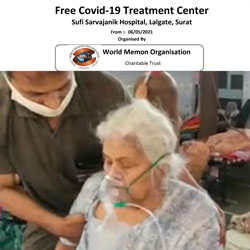 𝘾𝙤𝙫𝙞𝙙 𝘾𝙚𝙣𝙩𝙚𝙧𝙨 have been established in various cities, towns and villages to ease the suffering. Each centre is under expert medical supervision, has an inexhaustible supply of oxygen and life saving medicines. Along with free treatments, the centers stock essential food items which are provided to the families of the afflicted.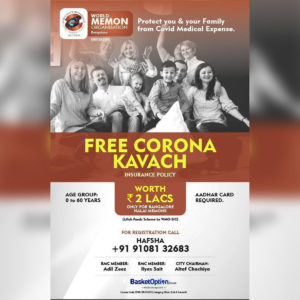 𝙈𝙤𝙣𝙚𝙩𝙖𝙧𝙮 𝘼𝙨𝙨𝙞𝙨𝙩𝙖𝙣𝙘𝙚 in the form of payment of hospital bills and insurance policies to cover medical expenses have been availed for the needy.
An aggressive campaign has been conducted by the Chapter to accelerate the 𝙑𝙖𝙘𝙘𝙞𝙣𝙖𝙩𝙞𝙤𝙣 𝘿𝙧𝙞𝙫𝙚 in India. The message has been sent out loud and clear that the most effective alternative to control the Covid outbreak is to vaccinate the population. A large majority wouldn't need hospitalization after being vaccinated hence allowing the collapsed healthcare system to recuperate.
The World Memon Organisation has pledged a 𝙈𝙞𝙡𝙡𝙞𝙤𝙣 𝘿𝙤𝙡𝙡𝙖𝙧𝙨 towards the Covid crisis in India. A lot has been achieved but a lot more needs to be done. We implore you to donate towards this pertinent cause as your donations make the difference between life and death.
At a time when the World needs healing, your compassion must lead the way. Your monetary assistance to a nation when it is most vulnerable reinforces the belief that when Mankind is threatened by a mortal disease, Humanity will once again prevail.
#SaveMyIndia
#BreathOfLife
#StayStrongIndia
#Covid19