Help WMO North India Chapter Deliver Breath of Life.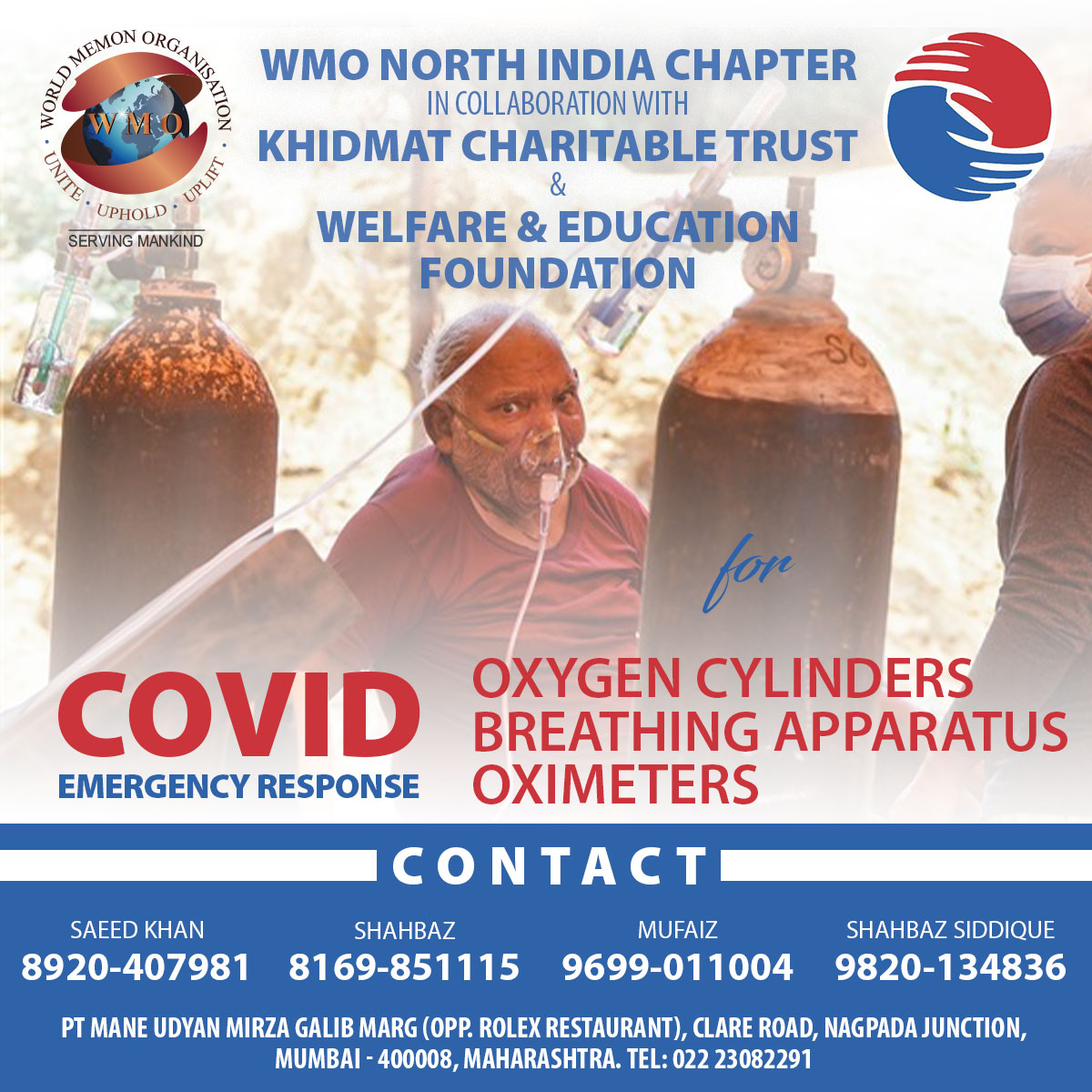 𝘖𝘹𝘺𝘨𝘦𝘯 𝘪𝘴 𝘵𝘩𝘦 𝘮𝘰𝘴𝘵 𝘱𝘳𝘦𝘤𝘪𝘰𝘶𝘴 𝘤𝘰𝘮𝘮𝘰𝘥𝘪𝘵𝘺 𝘪𝘯 𝘐𝘯𝘥𝘪𝘢 𝘵𝘰𝘥𝘢𝘺. 𝘊𝘰𝘷𝘪𝘥 𝘪𝘯𝘧𝘦𝘤𝘵𝘪𝘰𝘯𝘴 𝘭𝘦𝘢𝘥 𝘵𝘰 𝘩𝘺𝘱𝘰𝘹𝘪𝘢, 𝘢 𝘤𝘰𝘯𝘥𝘪𝘵𝘪𝘰𝘯 𝘪𝘯 𝘸𝘩𝘪𝘤𝘩 𝘵𝘩𝘦 𝘣𝘰𝘥𝘺 𝘪𝘴 𝘥𝘦𝘱𝘳𝘪𝘷𝘦𝘥 𝘰𝘧 𝘢𝘥𝘦𝘲𝘶𝘢𝘵𝘦 𝘰𝘹𝘺𝘨𝘦𝘯 𝘴𝘶𝘱𝘱𝘭𝘺. 𝘐𝘵 𝘭𝘦𝘢𝘷𝘦𝘴 𝘵𝘩𝘦 𝘪𝘯𝘧𝘦𝘤𝘵𝘦𝘥 𝘨𝘢𝘴𝘱𝘪𝘯𝘨 𝘧𝘰𝘳 𝘢𝘪𝘳, 𝘳𝘦𝘴𝘶𝘭𝘵𝘪𝘯𝘨 𝘪𝘯 𝘧𝘢𝘵𝘢𝘭𝘪𝘵𝘪𝘦𝘴.
𝐀𝐝𝐦𝐢𝐧𝐢𝐬𝐭𝐞𝐫𝐢𝐧𝐠 𝐬𝐮𝐩𝐩𝐥𝐞𝐦𝐞𝐧𝐭𝐚𝐥 𝐨𝐱𝐲𝐠𝐞𝐧 𝐦𝐚𝐤𝐞𝐬 𝐭𝐡𝐞 𝐝𝐢𝐟𝐟𝐞𝐫𝐞𝐧𝐜𝐞 𝐛𝐞𝐭𝐰𝐞𝐞𝐧 𝐥𝐢𝐟𝐞 𝐚𝐧𝐝 𝐝𝐞𝐚𝐭𝐡.
To combat the Covid Crisis in India, 𝐖𝐌𝐎 𝐍𝐨𝐫𝐭𝐡 𝐈𝐧𝐝𝐢𝐚 𝐂𝐡𝐚𝐩𝐭𝐞𝐫 have collaborated with 𝐊𝐡𝐢𝐝𝐦𝐚𝐭 𝐂𝐡𝐚𝐫𝐢𝐭𝐚𝐛𝐥𝐞 𝐓𝐫𝐮𝐬𝐭 and 𝐖𝐞𝐥𝐟𝐚𝐫𝐞 & 𝐄𝐝𝐮𝐜𝐚𝐭𝐢𝐨𝐧 𝐅𝐨𝐮𝐧𝐝𝐚𝐭𝐢𝐨𝐧. 50 𝐡𝐢𝐠𝐡 𝐜𝐚𝐩𝐚𝐜𝐢𝐭𝐲 𝐨𝐱𝐲𝐠𝐞𝐧 𝐜𝐲𝐥𝐢𝐧𝐝𝐞𝐫𝐬 are available in stock, along with the 𝐛𝐫𝐞𝐚𝐭𝐡𝐢𝐧𝐠 𝐚𝐩𝐩𝐚𝐫𝐚𝐭𝐮𝐬 and 𝐨𝐱𝐢𝐦𝐞𝐭𝐞𝐫𝐬 to supply and guage oxygen levels.
These vital medical equipments can be availed by all.
𝘊𝘰𝘯𝘵𝘢𝘤𝘵 𝘋𝘦𝘵𝘢𝘪𝘭𝘴 𝘪𝘯 𝘐𝘯𝘥𝘪𝘢
𝐌𝐫. 𝐒𝐡𝐞𝐡𝐛𝐚𝐳
𝐌𝐨𝐛𝐢𝐥𝐞 +𝟗𝟏 𝟗𝟑𝟐𝟑 𝟑𝟕𝟓𝟐𝟐𝟏
𝐌𝐨𝐛𝐢𝐥𝐞 ‪+𝟗𝟏 𝟖𝟏𝟔𝟗 𝟖𝟓𝟏𝟏𝟏𝟓
𝐌𝐫. 𝐌𝐮𝐟𝐚𝐢𝐳
𝐌𝐨𝐛𝐢𝐥𝐞 +𝟗𝟏 𝟗𝟔𝟗𝟗 𝟎𝟏𝟏𝟎𝟎𝟒
𝐌𝐨𝐛𝐢𝐥𝐞 +𝟗𝟏 𝟗𝟎𝟖𝟐 𝟐𝟐𝟑𝟐𝟎𝟐
𝐒𝐮𝐩𝐩𝐨𝐫𝐭 𝐖𝐌𝐎 𝐍𝐨𝐫𝐭𝐡 𝐈𝐧𝐝𝐢𝐚 𝐂𝐡𝐚𝐩𝐭𝐞𝐫 𝐰𝐢𝐭𝐡 𝐲𝐨𝐮𝐫 𝐝𝐨𝐧𝐚𝐭𝐢𝐨𝐧𝐬 𝐚𝐬 𝐢𝐭 𝐞𝐧𝐚𝐛𝐥𝐞𝐬 𝐭𝐡𝐞𝐦 𝐭𝐨 𝐬𝐚𝐯𝐞 𝐥𝐢𝐯𝐞𝐬. 𝐇𝐞𝐥𝐩 𝐭𝐡𝐞𝐦 𝐝𝐞𝐥𝐢𝐯𝐞𝐫 𝐭𝐡𝐞 𝐛𝐫𝐞𝐚𝐭𝐡 𝐨𝐟 𝐥𝐢𝐟𝐞.
#SaveMyIndia
#BreathOfLife
#StayStrongIndia
#Covid19