WoW is an international initiative by WMO – Youth wing for women's empowerment. This initiative will take a three pronged approach in order to be effective.
Connect. Empower. Uplift.
Approach No. 1- CONNECT
"If you want to go fast, go alone. If you want to go far, go together" – African Proverb
Networking is a key factor in any kind of organisation.
"I run a fashion accessories company that specialises in handbags and has its presence in India and the Middle East, in the midst of launching in Singapore. At the AGM in South Africa during the IYC networking session I met an extremely enterprising woman – Rafeeyah Hassim. Other than being an accomplished pathologist she always wanted to be an entrepreneur. She decided to become a representative of my brand in Johannesburg. Safe to say, it's been an extremely successful, ongoing, mutually beneficial relationship"- Sana Shakoor, Project Leader-WMO Women Empowernment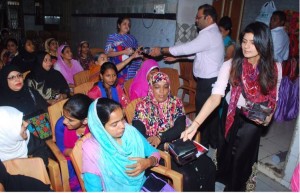 The only way to connect such a large community over such distances is through technology. WOW team will create a social platform through Instagram and Facebook, get data of all the women, publicise it so other women around the world can be aware of opportunities for collaborations and tie ups. WOW Team will connect all the working women, social workers, professionals across all chapters of WMO. This will be an ongoing process of data collection, creating a network of enterprising women. It will also provide them with exposure for their own businesses and professions.
An entrepreneurship fund will be established for memon enterprising women. WMO may help in their business if they see fit.  Also, at every AGM, a WOW award will be given to that one outstanding woman that has shown the most potential.  The brilliant WMO marketing team will provide further exposure to this cause and all the participants.
Approach No. 2 – EMPOWER
WOW workshops will be held at least yearly (or more) in every chapter. This workshop can be localised according to the needs and opportunities of each of the chapters.
The workshop will provide training skills to a group of 25 underprivileged women. After discussion with them, they said they want to start a small set up of sewing and embroidery.  The Youth Wing – India chapter will donate 3 machines to them along with a day of technical training. (A wmo centre is being set up in Vasai Village by the ladies team where these machines will be given; thus contributing to setting up a unit for longevity) One of these women is an expert at sewing and will continue teaching these groups of women at the centre and from home. Along with the training workshop WOW Team will even provide them with a basic understanding of creating business plans, government schemes related to empowerment of women, available loans for SME's and girl child education schemes.
Approach No. 3 : UPLIFT
If you get, give. If you learn, teach – Maya Angelou 
As women entrepreneurs and professionals, it is extremely important to give back to society in whatever way we can. Strong women empower other women. This is the mantra of their third approach.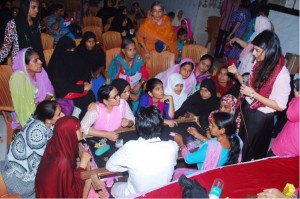 Through this platform WOW will highlight many such abilities of groups of underprivileged women. Their products can be showcased worldwide and open up a whole new world of economic empowerment to them. Many women entrepreneurs can start outsourcing their needs. Not only are these women hard working and talented but also cost effective.
Professional women may hold teaching workshops and counselling programs.  This is the third way in which WOW can empower women through economic means.
"One woman can make a difference, but together we can change the world! "