"Productivity is never an accident. It is always the result of a commitment to excellence, intelligent planning, and focused effort."- Paul J. Meyer
The Far East (FE) chapter arranged the Memon Youth Conference on 21st November to brainstorm ideas for all five international youth wing initiatives and to strategically plan it's 2016 goals. The youth wing in this part of the world has always been diligent and taken proactive measures in organizing events. Once again it surpassed everyone's expectations as they chartered a course for the accomplishment of their goals for the upcoming year.
Mr. Ashraf Sattar, inspirational leader of WMO commenced the conference with his motivational words about the significance of giving back to the community. He stated that 55% of Memons around the world are still under the poverty line and the only way to change this would be through charity and community service. He set a goal to ensure that no Memons were living in poverty by the year 2025. He urged the youth to help achieve this by educating and nurturing the under privileged Memon children in Sri Lanka – a project that would be funded completely by WMO.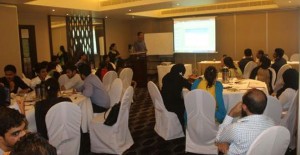 Toastmaster Gajan Suryakumar followed up ,spoke about the necessity of aiming towards one's goals, being creative and constant in one's efforts but keeping pace with the constantly changing world.
As the ambience was set by the leaders for the most scholastic yet exhilarating conference, Mr. Kamran Bhaila took charge to set the norms and facilitated the conference by forming groups of youngsters to brainstorm ideas for the five youth initiatives; Sports, Education, Memoni Language and Culture, B2B and Women empowerment.
Mr. Shahid Sangani, Mr. Anjum Asmath and Mr. Aslam Sattar were delighted to review all committee proposals for 2016 as each team came up with unprecedented and innovative ideas, adding value to the international youth wing objectives. FE youth emphasized on the need for health and nutrition workshops for ladies as improvement in women health care will greatly benefit the community. Also, out-of-the-box ideas about Group Wedding plans for underprivileged memon families, introduction of WOW helpline for women in need, promoting Motor sports by encouraging young, skillful, talented drivers on the track, conducting training workshops and introduction of charity run fitness centers for youth were some of the brilliant initiatives which FE youth wing will focus on in 2016.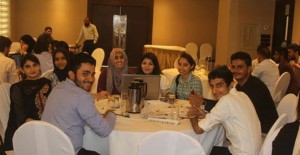 The successful and promising youth conference showed glimpses of visionary leadership amongst the youth, who in time will evolve and unfold as the future WMO leaders to bring in change for the betterment of our community.