WMO Africa Chapter Supports Masjid Al Aqsa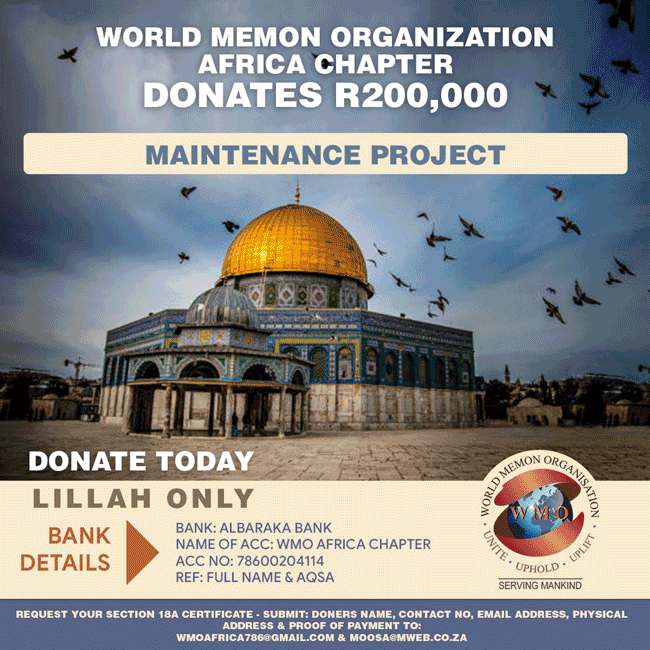 When the United Ulama Council of South Africa (UUCSA) made a clarion call to preserve and safeguard Masjid Ul Aqsa, the World Memon Organisation Africa Chapter were the first to respond. The organisation along with its Apex Body Natal Memon Jamaat (NMJ) contributed R200,000 and R45,000 respectively to support the maintenence and Quran programmes of Al Aqsa.
The donations will go towards a Waqf that will sustain the project over the coming years. The contributions will restore the archaic mosque to its former glory and will help preserve it for several decades. A Sadaqah Jariyah for the kind members of WMO Africa Chapter, the benefits and rewards they will continue to reap, long after they are gone.
May Allah the Most Gracious, the Most Merciful grant us opportunities to do many more forms of giving sadaqah for His pleasure and reward us the best life, especially in the Hereafter.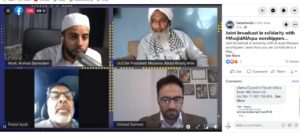 On the 8th of May, Mr. Feizul Ayob (Regional Vice President of WMO Africa Chapter) joined several dignitaries from across the globe on a live joint radio broadcast to express solidarity for Al Aqsa.
The majestic Al-Aqsa Mosque is the third holiest site in Islam. It towers above the the Old City of Jerusalem and is the sacred mosque from where our beloved Prophet (SAW) ascended to the heavens on the night of the Miraaj. It holds a special place in the hearts of Muslims around the World.
The contentious religious site has withstood the fury of nature and its walls have stood undeterred to several hostile attacks over the years. But now they are in urgent need of maintenance and repairs.
We implore you to contribute towards this pertinent cause in this hour of strife.
We hope and pray that Allah SWT bring an end to the violence, hatred and discord. Grant our brothers and sisters peace which is true, perfect and everlasting.