Recruitment Drive : Global Youth Wing – India (North & South) Chapter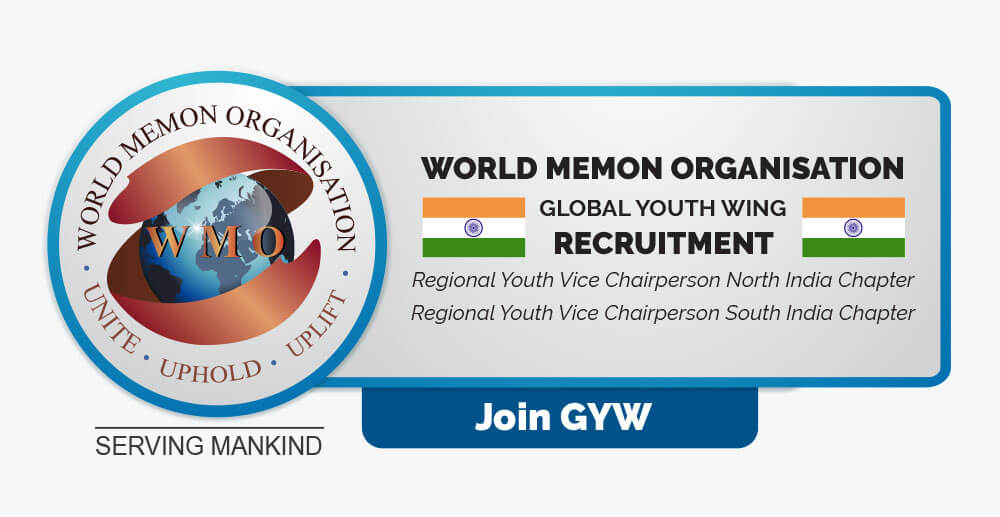 Assalaamu Alaykum
The WMO Global Youth Wing ["GYW"] was set up to organise, structure, inspire and develop Memon youth globally.
The Memon Community has an immensely rich talent base which must be harnessed and nurtured to ensure preservation, progression and development of our future in a challenging yet exciting global landscape.
The WMO GYW has conducted many innovative and exciting and projects in several chapters globally with immense success. Through delivery of these projects Memon youth have not only benefited directly but have also been able to express and develop themselves through an internationally developed and implemented structure at all levels from youth leadership roles to youth executive and volunteering positions.
WMO GYW is now recruiting in the two Indian Chapters for the position of Regional Youth Vice Chairperson ["RYVC"].
In summary the role of the RYVC will include the following;
Be an ambassador for the Memon Community through his/her exemplary conduct and commitment.
Appoint and maintain a team of Regional Youth Executives and Volunteers.
Assist the GYW Chairman to deliver the WMO GYW vision and strategy at local level.
Ensure compliance with the constitution of the WMO at all times.
Devise, plan and execute projects approved by the GYW Chairman and Regional Vice President in coordination and cooperation with the local chapter
This position is open to both male and female candidates and selection is only confirmed after a process of interviews with the WMO GYW Chairman and his team of officers and advisors and once approved by the President of the WMO. For the avoidance of doubt the selection is entirely merit based.
Jazaak Allahu Khairun
Wasalaam
Bashir Sattar
World Memon Organisation
Founding Trustee & Chairman - Global Youth Wing
A P P L Y N O W !
SELECTION CRITERIA:
An application must be submitted on the prescribed form (as attached) and include a copy of the candidate's curriculum vitae. Any Memon youth male or female can apply who is residing within India and who is aged between 18-40 years. Whilst no formal qualifications are required for this role, your academic qualifications, experiences, profile, vision and commitment statements as well as your performance during interview, will be considered in a reaching a final decision.
The prerequisite for this role is that you are prepared to offer an average of three hours of time per week.
This role is voluntary and there is no remuneration. Once received, the applications shall be reviewed, and appointments shall be made in accordance with the order and procedure laid out in the Constitution & Standing Orders, a copy of which can be obtained from this link; https://wmoworld.org/governancedocuments/
Please send your CV to the following persons and mention which position you are applying for:
Dr Sana Durvesh – WMO Global Youth Wing Secretary
[email protected]
Mr Imran Farook – General Manager WMO
[email protected]
Deadline for the submission of your application is Midnight (India Standard Time) On Thursday February 13th 2020.