Moving from Person-led to Process-driven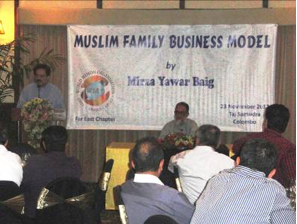 In keeping with the it's decision on Knowledge Building among the community by holding seminars, lectures and workshops, WMO Far East organized an evening lecture by Prominent International Speaker Mirza Yawar Baig who is also a Trainer, Author, Coach, Leadership Consultant with 16 years in Corporate General Management, 28 years in Training & Organizational Development, specializing in Family Business Consulting & Entrepreneurship.
The Lecture was held on Friday 23rd November 2012 at the Taj Hotel Colombo and was followed by dinner. Over 100 community members including ladies participated.
The topic chosen 'Muslim Family Business Model" – Moving from Person-led to Process-driven – Challenges for Muslim businesses' was very relevant as most if not all businesses of the members are family oriented.
The lecture presented very a practical approach to ensuring the continuity of businesses and also dealt with issues which are generally taken lightly or not even thought about until one had to face them to realize the gravity.
The questions posed by the participants proved that the they truly made good use of this experienced speakers time and knowledge.
The lecture was made possible due to the generosity of 4 Prominent Community Business Houses which sponsored Mr Baig's visit to Sri Lanka