Corona Pandemic Support Drive by WMO Europe Chapter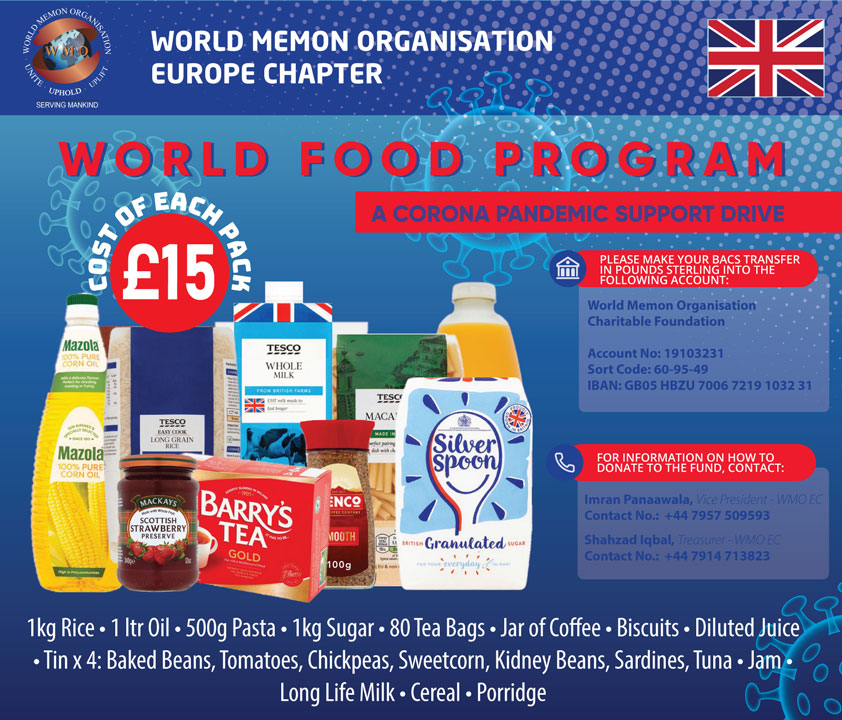 The World Food Program, a Corona Pandemic Support Drive was initiated by WMO Europe Chapter to assist underprivileged families and the less-fortunate across UK to combat a second fatal wave of infection as the nation underwent another lockdown.
Food packs containing essential food items will be distributed to the deserving as WMO members came together on the 30th of January to organize the food distribution drive at the Memon Center in Balham, London.
Mr. Mahmood Shaikhani (Deputy President – WMO) led from the front, ably assisted by Mr. Imran Panaawala (VP – WMO Europe Chapter) and Mr. Shahzad Iqbal (Treasurer – WMO Europe Chapter). It was heartening to watch the children too assist in the packing as the back breaking endeavour went late into the wee hours of the morning.
We are grateful to Mr. Shabbir Wali Mohammad (President – Memon Association UK) for allowing us to use the Memon Center for storing and packing the food parcels and we are indebted to Farhan Farooq and Arif Mundiya for being our pillars of support.
WMO Europe Chapter will begin the distribution drive from next week. We would like to thank all our donors who supported the worthy cause. We seek your continued support as we appeal to our brothers and sisters across the globe to donate towards this pertinent cause. Today, the World needs your generosity and compassion like never before. Time to step up to the plate for Humanity.