Young Turk: Raees Abdoola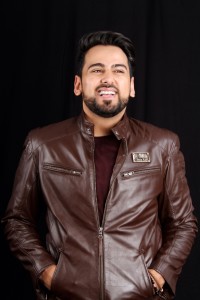 Raees Abdoola grew up in Gaborone, Botswana where he completed his primary and secondary education. He then moved to study at the University of Cape Town doing a Bachelor of Arts degree is Linguistics, Media and Sociology. After graduating he joined his father Mr Gulaam Abdoola's group of companies which ranges from property development to retail, restaurants and petrol stations. Since then he's been focused on their most recent venture which is a diamond supply company, trading rough and polished diamonds to jewellers, retailers and private clients world wide.
An avid photographer with a passion for travel he captures people and places through his lens. A creative bent of mind, stylish and successful. We present to you the charming young gun, Raees Abdoola, who does seem to have it all.
Names people call you?
Thankfully I don't have any embarrassing ones that have stuck around.
Your celebrity crush?
Haha that's ever changing. Judging only from what we can assume to know about celebrities – I like people who are outspoken. And it doesn't hurt if they are dreamy too.
Who is your mentor?
My Dad is someone who has accomplished a lot in his life by doing things differently, taking risks and always pushing new ideas. I hope to do the same.
What is your favourite quote?
"If your approach is honest and you have faith in yourself, then the guidance comes from within."
-B K Iyengar
…PHOTOGRAPHY. IT'S NOT SOMETHING I PURSUE FULL TIME BUT IT'S DEFINITELY MY HAPPY PLACE. IT'S IMPORTANT TO HAVE A CREATIVE OUTLET AND I LOVE THAT IT'S GIVEN ME THE OPPORTUNITY TO MEET AND LEARN ABOUT SO MANY DIFFERENT PEOPLE.
Something that you are really passionate about?
It would have to be photography. It's not something I pursue full time but it's definitely my happy place. It's important to have a creative outlet and I love that it's given me the opportunity to meet and learn about so many different people.
In my professional life it's diamonds, I can talk about that all day.
As a child what did you want to be when you grew up?
A Disney Prince. Yes, I was very young then.
If you opened a restaurant, what kind of food would it serve?
Hmm, One thing I'd definitely serve is sushi, it's one of my favourite meals. And really good noodles.
If you could have dinner with any person, dead or alive, who would it be?
Wow, there's so many. Off the top of my head, if it was someone I admire currently I'd say film director Mark Anthony "Baz" Luhrmann. The worlds he creates in his films are magic, and I definitely relate to his vision so I guess the conversation would be somewhat sparkling.
If you could eat two things for the rest of your life, what would they be?
Okay I'm going to cheat here and choose 2 things that have a variety under them. The first would be sushi, all different kinds. The second thing would be fruit, I love fruit.
If you could leave tomorrow with a one-way ticket to any destination, where would you go?
That's a tough one, there's so much to see out there. If it's a one-way ticket though, I'd say I'd go to Cape Town. It's truly one of the most beautiful cities in terms of its setting and its energy.
Even the most exotic places can get boring when you're alone, and having lived in Cape Town for four years I know that every time I go back I'm right at home.
'IF YOUR APPROACH IS HONEST AND YOU HAVE FAITH IN YOURSELF, THEN THE GUIDANCE COMES FROM WITHIN.'
With whom would you like to be stranded on an island and why?
Probably both my brothers. One – they're great company. Two – their combined survival knowledge (courtesy of Discovery Channel) would come in handy. Three – I'd rather be around someone I'm used to being around a lot.
One thing that you are really bad at, but still enjoy doing?
Haha, singing along with the radio! I'm good with the lyrics, and the performance, just not the actual singing.
If you had one super power, which one would it be? And why?
I would say flying. I'm a firm believer that we all need time alone each day just to process… so a little alone time somewhere up in the sky would be the perfect. Besides, it would make travelling much easier and think of the time saved hanging around airports.
Least favourite thing about humanity?
Heavy question. What is humanity really? We use that word as a euphemism for something along the lines of compassion, but "humanity" as it stands doesn't really fit that definition. There's of course things that would be great to change like the wealth divide, world hunger, wars, but let's make this personal. Let's say humanity refers just to the general state of being human, and my least favourite thing is a general lack of honesty.
If you were an activist, what would you like to protest against?
Human trafficking – just the idea that another human being could be "for sale" is one of the scariest things about the world. It's a modern form of slavery that needs to be stopped.
IT'S SOMETIMES A GREAT THING TO BE ABLE TO ENJOY YOUR OWN COMPANY IN A COMPLETELY UNFAMILIAR ENVIRONMENT.
Happiest/most memorable moment?
While there are too many for me to pick from, the most recent one was walking down a street in Aguas Calientés, Peru alone. It's sometimes a great thing to be able to enjoy your own company in a completely unfamiliar environment.
If someone wrote a biography about you; what do you think the title would be?
'to be continued'
A book that changed your life and how?
A book that I managed to stay interested in after a long time is The Forty Rules of Love by Elif Şafak. It's about faith, theology, and the deepest kind of love. The narrative switches between characters so that you see the story from different perspectives and different understandings of things that are seemingly the same.
I think this is important in everyday life; there's a peace you gain when you learn to open up to other perspectives and not take everything so personally.
A lesson that you learnt from your biggest failure?
One thing I have learnt is that timing is everything, and only when the time is right will things fall into place.
The best advice that you have ever received?
I'm not someone to dwell on advice-
So here's something I once read and found motivating in it's simplicity:
"Believe in yourself. Stay up all night. Work outside of your habits. Know when to speak up. Collaborate. Don't procrastinate. Get over yourself. Keep learning. Form follows function. Find inspiration everywhere. Network. Educate your client. Trust your gut. Ask for help. Make it sustainable. Question everything. Have a concept. Learn to take some criticism. Make me care. Use spell check. Do your research. Sketch more ideas. The problem contains the solution. Think about all the possibilities."
Top 3 things on your bucket list?
My number one was to sky-dive, and I eventually did. It's something I highly recommend.
Travel wise, Machu Picchu was on the top of the list for a long time, and I'm glad to say that box has been checked as I've just arrived back from Peru. I've been lucky that I've had the opportunity to travel to amazing places, I don't think you could ever cure a good case of wanderlust.
Life wise, to accomplish with success whatever tasks come my way and always maintain a good family life, with someone at my side who makes me happy.
Can't think of anything else… I'm not much of a planner, I'm open to each experience as it comes.