WMO, Team Ahmedabad Happy to Announce FREE Oxygen Facilities for All COVID-19 Patients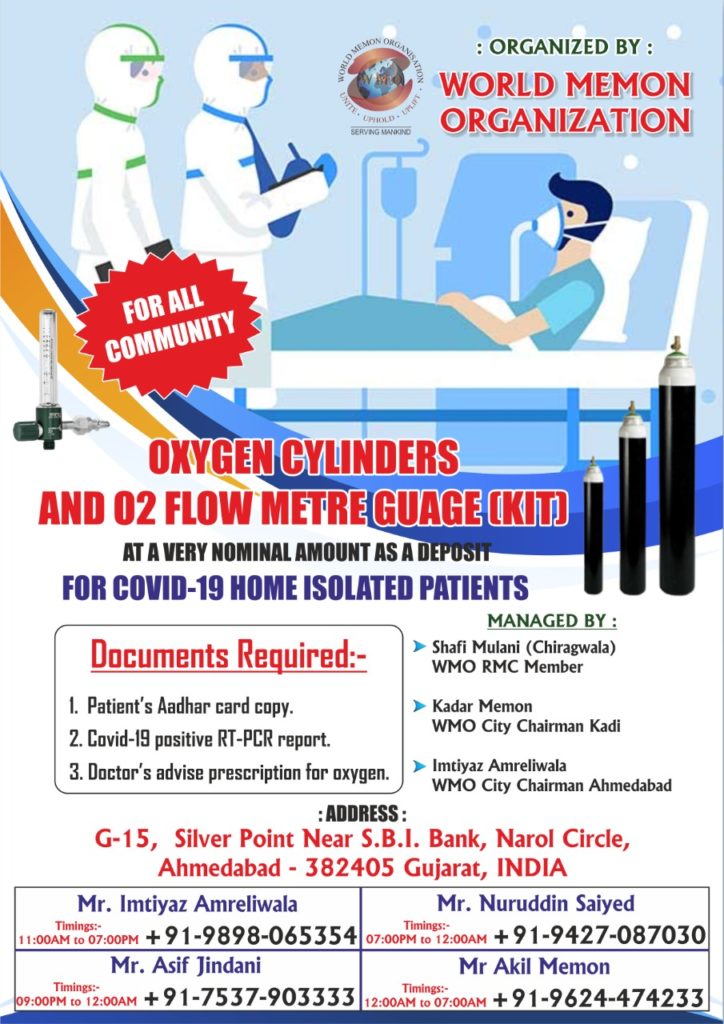 World Memon Organization, Team Ahmedabad is happy to announce FREE OXYGEN facilities for all COVID-19 patients.
ALHAMDULILLAH! We have 30 oxygen cylinders in stock of varying capacities and breathing apparatus.
Documents Required:-
1. Patient's Aadhar Card Copy.
2. Covid-19 Positive RT-PCR Report
3. Doctor's advise prescription for oxygen.
Delivery Address:-
G-15, Silver point, Near state bank of India, Narol Circle, Ahmedabad – 380028 Gujarat India
For further assistance please contact our representatives
Mr. Imtiyaz Amreliwala
WMO City Chairman Ahmedabad
+91 9898-065354
Timings:- 11:00AM to 07:00PM
Mr. Nuruddin Saiyed
+91 9427-087030
Timings:- 07:00AM to 12:00AM
Mr. Asif Jindani
+91 7537-903333
Timings:- 09:00PM to 12:00AM
Mr Akil Memon
+91 9624-474233
Timings:- 12:00AM to 07:00AM
Best Wishes,
Kadar Memon
WMO City Chairman Kadi
Shafi Mulani (Chiragwala)
WMO RMC Member