Welcome to the 14th WMO CF AGAM – The Memon (October Edition)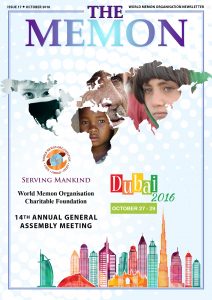 It gives me immense pleasure to cordially invite you, to attend the 14th AGM of the World Memon Organisation Charitable Foundation in Dubai, UAE on the 29th of October 2016.
We hope you can join us in this celebration of Memon brotherhood and partake in our global endeavours to Uphold, Uplift, Unite and Serve Mankind.
Welcome to the World Memon Organisation. It's great to have you with us!
Mr. Suliman Noor Mahomed
President
World Memon Organisation