Memon Bowling Championship 2013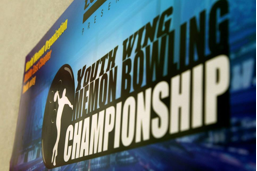 World Memon Organization Middle East Chapter Youth Wing has been one of the most active organizations across the Globe with back to back events. After two big events, the youth wing reverted to some fun and held Memon Bowling Championship 2013 for men and women.
The tournament featured some great talent, M.Saleh topping the list by scoring 238 in an individual round; however the Youth Wing had a twist during the men's MBC. The top 4 of the championship were all members of youth wing and they decided to step aside to let the others take the gold. A gesture portraying great team work.
The women MBC also featured a twist when the two finalists tied and had a restart to the finals with the table topper Rehab clinching the title eventually. The motive of keeping these tournaments was to have fun and also spending the weekend in a fun and sporting way.
For the men's tournament, Mr. Farook Kassim was the chief guest and spoke very highly of the efforts from the Youth wing to unite the memon community and putting together such wonderful events. The MBC '13 also was the launch of WMO M.E Youth Wing's newsletter and Website.
The Winners
MEN
1. Muhammad Saad
2. Muhammad Ibrahim
3. Abdul Qadir
WOMEN
1. Rehab Adam
2. Zulekha Tabani
3. Zehbiyah Motiwala
In his words Muhammad Salmaan, The chairman of Youth Wing said, "Today I am extremely proud of my team, they dint only make the youth wing look a team with extremely good character but they also portrayed the courage to let go off things that belong to them just to boost other's confidence."
The event was sponsored by Tomini Group and Shaheen Exchange LLC. We thank Shaheen Exchange LLC for showing continues support in all our events and also a big thanks to Tomini Group for participating despite being non-memon.
Next in line for the Youth Wing Middle East Chapter, is the KIDS weekend out followed up by local MPL later in the year.
Website: www.wmomeyouthwing.webs.com
Facebook: www.facebook.com/WMO.Youthwing.me
Youtube: www.youtube.com/user/wmomeyouthwing
Email: [email protected]