Applications Invited – Regional Youth Executive Middle East Chapter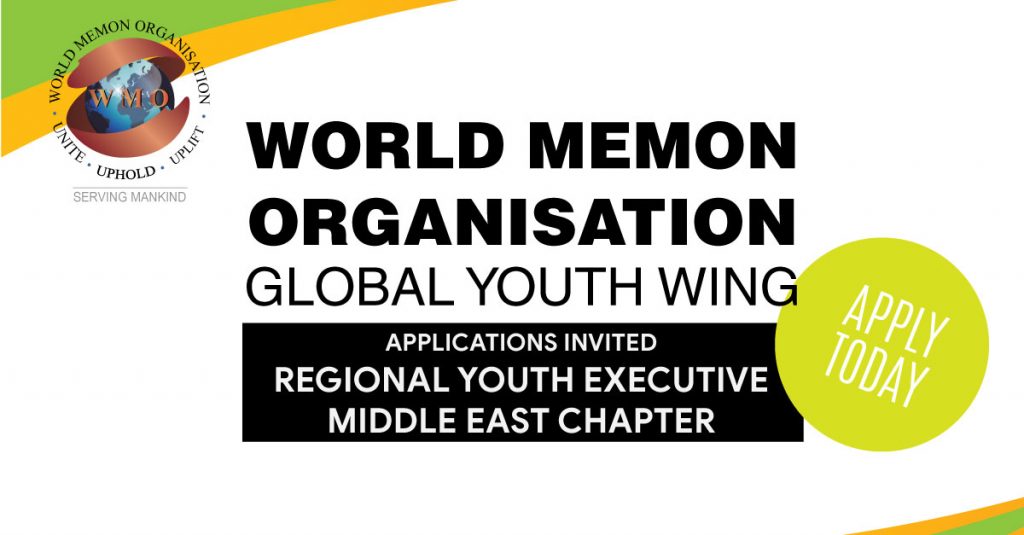 OUR YOUTH
OUR FUTURE..!!
Message from the
Global Youth Wing Chairman
Working within the WMO for the sake of Allah SWT is a huge privilege and blessing and a wonderfully satisfying way to work for the community to bring about real change. It is immensely satisfying to drive oneself for the benefit of others and also develop one's own skill set, outlook and perspective on life whilst improving on that journey.
I can categorically say from personal experience that working within the charitable sector as a volunteer at any level should have profoundly satisfying, positive and fruitful impact on one's own life and development Inshallah.
Within the WMO there is a momentum of change which wants to recognize and promote the immense talent that prevails within our Youth.
I am really excited at the prospect of meeting the newly selected RYE's and we hope to be using this opportunity to bring into the WMO in some way all potential candidates applying for this role.
May Allah SWT guide us on the straight path and strive to do his work for the benefit of others without pride or prejudice – Aameen.
Wasalaam
Bashir Sattar
Founder Trustee &
Global Youth Wing Chairman
Mission Statement:
To promote and recognise the importance of young Memon's in particular by developing the WMO Global Youth Wing with a view to preserving and protecting their sense of the value of their Memon identity and encouraging their desire to become more deeply involved in furthering the objects of the WMO in order to enable them to participate more fully in the development of their families and the Memon community worldwide;
The Global Youth Wing Regional Youth Vice Chairman's position ["RYVC"] in the Middle east Chapter is now occupied by entrepreneur Mr Junaid Ahmed. Junaid Bha brings a distinct energy, ability and style to the work and he is now embarking on building his team.
With a new vision of projects and programs planned for Middle East, Junaid Bha is looking to recruit suitably qualified persons to take up RYE or executive roles.
Role Summary:
The RYE's shall have the following Roles and responsibilities; Be an ambassador for the Memon Community and WMO through exemplary conduct and commitment; Carry out such functions as may be assigned to him or her by the RYVC; Attend meetings and conference calls of the Regional Youth Wing as scheduled; Assist in devising and planning relevant projects and programs to meet the strategic mission and vision of the GYW; Assist the RYVC in seeking to raise funding for such projects and programs; Provide mentoring and leadership to members of the wider Youth community and assist them to develop and improve their skill base including skills to do with: Islamic, Language, communications, negotiations, social, organizational, speaking and presentation, leadership and cooperative skills; Arrange media and relevant publicity for any WMO GYW activities as requested
This is an important role within the WMO. It supports the role and responsibilities of the RYVC and involves communicating both within the WMO at all levels and externally to members and non-members alike as well as other institutions and bodies. The position is an exciting platform from which to bring about real change for the benefit of the community whilst improving one's own performance through self-development to hopefully attain higher leadership roles within the WMO.
Role Requirements:
The RYE candidate shall be aged between 18-40. The one selected RYE appointed to serve on the Management Committee shall be aged between 25-40 years.
The applicant shall reside in the region of the Middle East
WMO is an equal opportunity body with both male and female candidates able to apply
The candidate must be a minimum of a graduate having achieved a university degree (or equivalent) at any level
The candidate must have the ability to correspond in English
The candidate should be able to converse in Memon language (albeit it partially)
The candidate should possess a "can do" attitude and have a helpful cooperative and flexible approach
The candidate should be able to give on average 1-2 hours of time per week