Zainab Rehabilitation Centre – Home for Children with Special Needs Established in Karachi, Pakistan.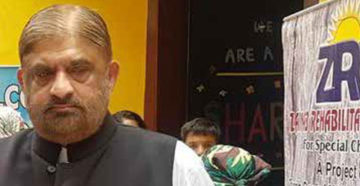 Zainab Rehabilitation Centre (ZRC) is a home for children with special needs established in Karachi, Pakistan. A majority of the Memon organizations based in Pakistan and across the globe, extend their support and patronage towards this wonderful centre that works for the admirable cause of providing the utmost care for differently abled children. The World Memon Organisation Pakistan Chapter is one such organization.
Mr. Altaf Jangda (Regional Secretary General – WMO Pakistan Chapter) visited ZRC along with Col. Aftab of the Pakistan Rangers, ZRC Chairman – Haji Masood Parekh, several prominent Memon personalities
including Mr. Abdul Rahim Janoo, Mr. Hanif Motlani, Mr. Akhtar Harfa, Mr. Ayaz Bandukda, Mr. Yaqoob Pochi, Mr. A.K. Memon and luminary of the Pakistan film industry – actor and director Mrs Sangetta. The purpose of the visit was to celebrate Independence Day with the children at the centre.
Most of these differently abled children have overcome their cognitive, mental and physical disabilities, thanks to the sincere dedication and tireless efforts of the staff and teachers of the Zainab Rehabilitation Centre. They have become selfsupporting, self-reliant and have proved themselves second to none. What better way to celebrate Independence day than with these little angels who epitomize the spirit of Independence as they gradually spread their wings and aim for the skies.