On the 19th of August 2017, WMO trustee – Mr. Tanveer Merchant made a sizeable donation of Rupees Ten Million (approx 150,000 USD) towards the World Memon Organisation with the stipulations that the funds be allocated to the pertinent causes of Education and Medical Care.
Tanveer identified Khidmat Charitable Trust as the recipient of his generous contribution.
To celebrate the momentous occasion, Mr. Ashraf Sattar (Deputy Chairman- WMO Board of Trustees) and Mr. Shahid Sangani (COO WMO) specially flew down to Mumbai from Sri Lanka to attend the event. The occasion was also graced by prominent members of the WMO India Chapter including the Vice President and Assistant Secretary General, along with several stalwarts of Khidmat Trust.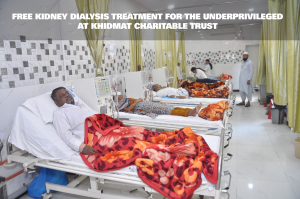 Khidmat Charitable Trust have established themselves as Caretakers of Humanity for over two decades, now. The trust provides effective medical and health care to the underprivileged across India. From free medicines to diagnostic tests, from providing kidney dialysis to a sizeable number of afflicted brothers and sisters on a daily basis, at zero costs to making life saving surgeries possible for the less fortunate. Everything is being taken care of, under one roof and in record time.
"We support Life. We strongly believe that every human being has the right to quality medical care. Our vision is a World without suffering." asserts Mr. Hamid Nathani who is an integral part of Khidmat trust.
Hamid Nathani is also the VP of WMO India Chapter and a lofty pillar of strength for the Khidmat Trust. Other stalwarts including his brother Rashid Nathani, Mr. Shabbir Patca (Trustee – Khidmat Charitable Trust) and several other prominent philanthropists of Mumbai city, make up the core team of the Trust.
The Khidmat Trust also provides tuition fees, scholarships and bursaries to deserving students.
Khidmat means "To Serve" and the World Memon Organisation has firmly underlined "Serving Mankind" on their logo. With both organisations sharing the same ideology, it was only natural for their paths to align in their endeavours to uplft Humanity.
WMO will continue to collaborate with organisations such as Khidmat Charitable Trust in various countries across the globe to achieve their vision for the year 2020, whereby no child will be deprived of an education and effective medical and health care will remain firmly within the frail grasp of penury.