WMO Pakistan Chapter Spreading the Light with Gift of Sight.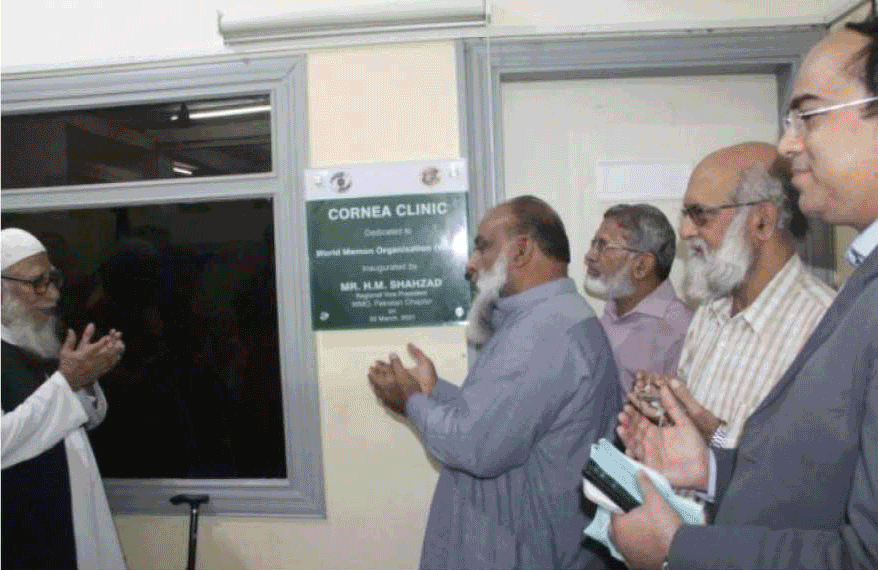 The World Memon Organisation Pakistan Chapter is spreading the light with the invaluable gift of sight. Healthy corneas are being delivered to the visually impaired in Pakistan, courtesy WMO Far East Chapter.
WMO Pakistan Chapter has partnered with the Al Ibrahim Hospitals to provide free corneal transplant services to the marginalised of Pakistan. Hundreds of successful corneal graftings have been performed thus far by the Grace of the Almighty.
In recognition of the services provided by WMO, a special ward, aptly named – WMO CORNEA CLINIC was inaugurated at the Al Ibrahim Hospital of Malir, Karachi on the 2nd of March. The inaugural ceremony was attended by the top brass of the Chapter including its honourable Vice President – Mr. H M Shehzad.
We met several children, some quite young at the OPD of the Al Ibrahim Hospital who were suffering from corneal deformities and were awaiting a simple transplant to restore their vision. It was heart wrenching as their entire life lay ahead of them. With their lives plunged into darkness, the only colour they were accustomed to, was Black.
As we walked out of the institute, the sun was setting on the Karachi shores. I was mesmerized by the changing hues of the sky – from a cerulean blue to fuchsia to tangerine orange. As streaks of crimson red kissed the azure waters before the sun finally bid goodbye, I had just witnessed the most vibrant palette of all the brilliant shades of life.
As we enjoyed the myriad hues, my mind was surprisingly at ease and my heart at peace. I felt a sense of fulfilment for being a part of an organisation that was changing lives across the globe. Someday, someone would enjoy this beautiful sunset with a set of eyes donated by the World Memon Organisation.
And would he not thank the Almighty for creating the most stunning canvas and would she not be grateful to witness a masterpiece filled with the most vibrant colours that distinctly lacked every shade of Black!