WMO Youth Wing Pakistan Chapter, held its signature event Think Wise on May 29, 2016 at the Karachi School of Business and Leadership Auditorium. Staying true to its tradition, youth wing PC yet again brought something different to the table. 'Agar Tum Chaho (If you endeavor)', was the theme of the Think Wise 2016. This year the aim was to encourage the young minds of Memon community to highlight the problems within the community and suggest solutions.
This was the first time when the participants were actually involved in the whole event and had to brain storm ideas and come up with solutions to the myriad problems, affecting the Memon community in Pakistan. The idea behind "Agar Tum Chaho" as the name indicates was to encourage the youth of the community to be the agents of change and plunge headlong into conducting painstaking research and then proposing solutions to the various problems plaguing our community. It encouraged them to think, take ownership and be responsible.
Think Wise 2016 was a research based presentation competition in which there were eight teams who competed for a prize of 10,000 Rupees. It was followed by a motivational talk and then a theatre performance.
The WMO team came up with eight different topics that reverberated with the Memon community. The advantage Pakistan chapter has, is that the Memon community does extensive social work in Pakistan. Memons have their own community hospitals, educational institutes, vocational training institutes and several community organizations that are constantly involved in providing welfare services. This allowed us to come up with issues that pertain to the social services and community. It also gave us a wide range of subjects that could be explored and studied. We therefore identified the following eight topics.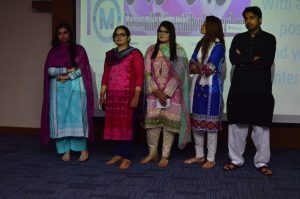 Presentation Topics Youth Wing Mentors
Dowry – Rehana Hanif Gabrani
Community educational institutions – Dr. Aqib Javed Vayani
Female education – Abdul Haseeb Vayani/Dania Hanif
Early marriages – Altaf Vayani
Inter communities collaboration – Khubaib Poonawala
Community hospitals – Faisal Abdul Baqi
Preservation of community infrastructure – Jawwad Arif Choksi
Preservation of Memon culture – Ammar Moten
The next step was to look for brilliant Memon youngsters who would be then expected to do research on these topics. The purpose was to get them involved in the study of different issues, enable them to explore the problems themselves and to introduce them to real concerns. Research was therefore considered as the best strategy that would compel them to investigate. We held an orientation session one week before the actual event where the participants were given a brief training session on how to conduct research. They were also taught presentation techniques and public speaking methods. This training session was conducted in a classroom environment where they learnt the basic tools of research and public speaking. The participants were then assigned their topics and each team was also given a mentor from the Central Executive committee of the youth wing. The mentor's responsibility was to to guide their teams and help them out during the research process. Our CEC members in their role of mentors were constantly engaged with the teams and helped them in their research as well as preparation of the presentations.
The youth wing at Pakistan has a tradition of maintaining team spirit. This event was one more manifestation of this. This event was led by Abdul Haseeb Vayani under the guidance of the chairman Khurram Shehzad. Tasks were distributed among other members. Khubaib Poonawala was the co-lead, presentation segment was managed by Ms. Sumrin and the responsibility of Master of Ceremony was given to Dr. Aqib Javed. The theatrical performance, coordinating with the speaker, arranging the venue, managing the lunch, sponsorship efforts, other logistics etc. were so many tasks that would have been impossible without the input of all CEC members.
On event day, the teams appeared all prepared in formal attires fully geared to win. Each team presented in front of a large audience and a panel of judges. The judges were also carefully selected Memon professionals who have made a mark in the fields of social work, academia and business. These were our judges;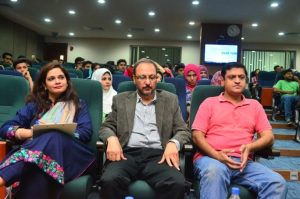 Ms. Sumera Muhammad
Manager, Skills Development Program-Center for Executive Education and Visiting Faculty at IBA – Institute of Business Administration, Karachi
Mr. Nasir Aziz
Technical Specialist, General Management, Marketing, Pre and Post Construction Solutions Expert
Mr. Abid Beli
Entrepreneur – Project Consultant at Akhuwat Foundation- Founder At Madjoint Studios – Partner At China Pak Trade
The presentations by all teams were truly impressive. It was amazing to see the young Memon girls and boys speaking their heart out on the issues of community. They had carefully studied their assigned topics and had come with brilliant solutions.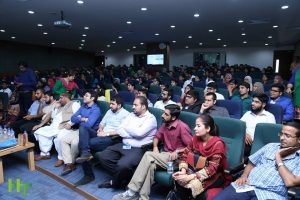 Although each team gave their best shot, but as in any competition, we had one team which outshone the rest. Their topic was "Community Hospitals". This team had visited community hospitals in Karachi, interviewed key figures and also did a survey that inquired about the services. The team in their presentation highlighted the problems confronting those hospitals and also presented concrete solutions. They were thus crowned as the best team and took home the AGAR TUM CHAHO winner's Medals and a cash award of PKR 10,000.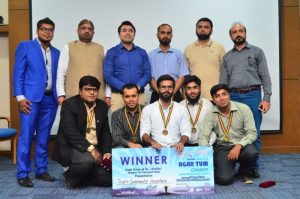 After lunch, Mr. Zohair Alibhoy addressed the audience and gave an inspiring talk on how we can all work together to be the change we want to see in this world. He took the theme of Agar Tum Chaho and inspired the audience to believe in themselves and keep trying. His talk centered around the factors that cause failures and how to avoid them.
Since the motto of the WMO Youth Wing Pakistan Chapter is "Fun with Learning" the fun element, after the intense learning session was brought about by Team DramaCulas, who put up a theatrical performance which left the audience in splits! It was a truly captivating performance that gave a beautiful ending to the event.
All in all, it was a thoroughly well thought out, well executed event put together by the WMO Youth Wing Pakistan Chapter and the post event success could be seen on social media, where several participants of the event blogged about their experience of being associated with ThinkWise 2016! These participants are not only voicing their admiration but also acknowledging that this event was a learning experience for them.
It was a rare opportunity when the youth got a chance to present their own solutions. For years, the Memon community has been dominated by senior members who continue to propose their recommendations and take decisions. This event was a testament to the fact that the young people of today have the required skills as well as the passion to be agents of change. All they need is opportunity and guidance. The WMO PC youth wing is committed to providing them with steadfast support.
A very commendable and proud outcome of this event has been that some of the participants are so inspired, that they are aiming to launch social action projects. The whole exercise of researching the problems has given them a chance to be exposed to contexts that otherwise go unnoticed. We at WMO Youth Wing PC are committed to produce an engaged and socially aware generation that is capable of solving its own problems and can contribute to the upliftment of the community.
Authors:
Reeda Sheikhani & Abdul Haseeb Vayani
Binish Umair writes about her memorable experience after attending her first WMO Youth Wing event.:
Binish Umair is a content writer/editor by profession and home maker by heart. She is also a blogger and story teller. Binish is ambitious to ignite imaginations and inspirations through her words. Currently she is running an educational forum by the name of Karachi schools' Guide and launched THE FUN WEAVERS under the same umbrella to offer educational centered fun activities and events for kids and parents. Passion for social work has voluntarily associated her with Lyari se Yaari and Ladies of Pakistan. Resumed her studies after marriage, Binish is now pursuing her bachelors in Mass Communication. She is also a member of steering committee of CCS (Civilised Citizen society) and Memon Dramatics Society. Tends to be a women with strong visions and ever ready to move off-the-track just to invade her infinite aspirations.

Here is what Binish had to Say –> https://goo.gl/YkXsNz