The Memon – October 2019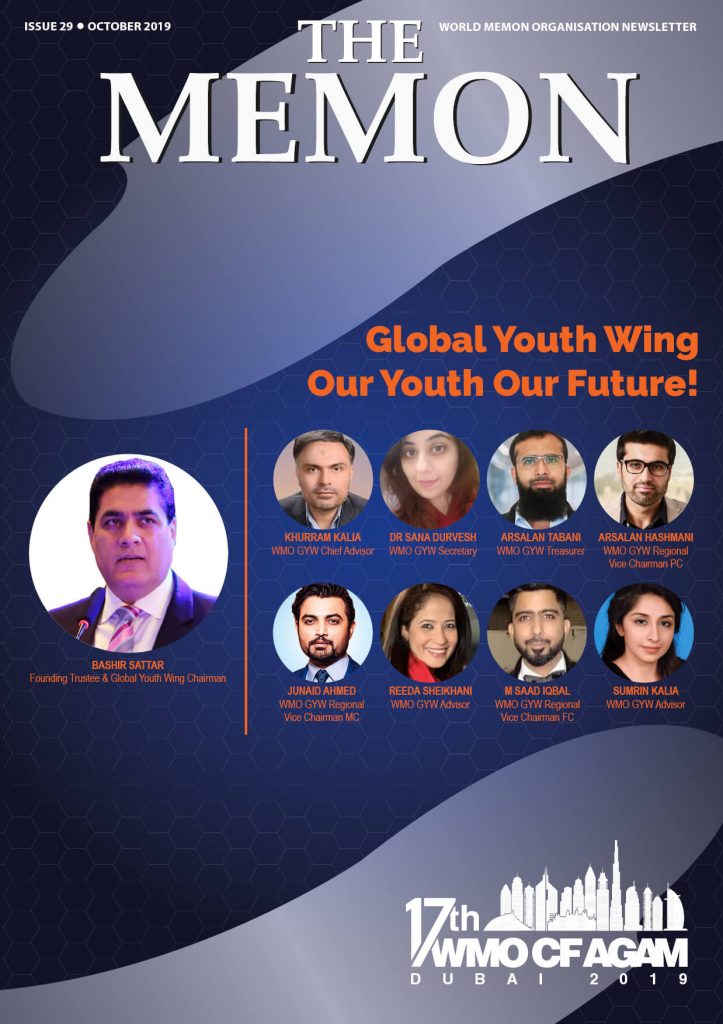 We present to you the 29th Edition of The Memon magazine. It is an AGM edition, a special issue which is an ode to the prolific Bashir Sattar and the gifted Global Youth Wing.
Mr. Bashir Sattar is a visionary. He is disciplined, effective and always gets the job done. Add to that a master orator who has a way with words, be it spoken or written.
After taking on the mantle of the Youth Wing in 2017, Bashir Sattar (Global Youth Wing Chairman – WMO) has been instrumental in infusing new blood into an aging organization. As the famous quote goes, "True leaders don't create followers, they create more leaders". The international Global Youth Wing team bear testament to the remarkable leadership qualities of Mr. Sattar. Bashir bha has groomed the next generation leaders who can bear the WMO cross and take this organization to greater heights in the coming years.
Youngsters from across the globe are lining up to join WMO and the admirable projects being conducted by the youth are on the rise. Leadership conferences, youth conventions, sports events, matrimonial alliances, endeavours to uplift the community…the list goes on.
Mr. Bashir Sattar has been a founder Trustee of the World Memon Organisation since its inception. He has been a loyal and dedicated foot soldier of the organization, flying the WMO flag high in all corners of the World. As he assumes the role of General and creates a new frontline with his young troopers, he leaves an enduring legacy.
Legacy is something you don't leave behind for your children, it is something you leave behind within your children. As Bashir Sattar inculcates the values of empathy, kindness and generosity in our future leaders, these invaluable traits will serve them well as they continue to unite, uphold and uplift Mankind under the WMO banner.
WMO will always be grateful to Mr. Bashir Sattar and history will be kind to him, as he has created it.