Mohammed Farooq – The Memon (February 2017)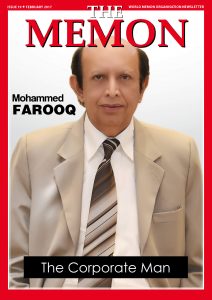 I cannot vividly recall the day my father died. I was very young and still studying in school. But I distinctly remember the hardships we faced after we lost him. I remember the undaunted courage, my mother displayed in trying circumstances. Her firm resolve that all her children must pursue their education. I remember doing odd jobs to pay for night school, receiving my Masters in Businesses Administration and scaling the greatest heights of success in both the corporate and business world.
Today, when I help an underprivileged mother with a sewing machine or present a less fortunate family with an auto rickshaw, the objective remains the same. I enable them to earn a living, to provide their child with an education.
I can relate to the trials and tribulations of a resolute mother. I clearly understand her need to make those umpteen sacrifices to educate her children. And I can finally grasp the true meaning of those immortal words spoken by the great Nelson Mandela. "Education is the most powerful weapon which you can use to change the world."
Because I am it's living embodiment!