The Memon – AGM Edition (September 2017)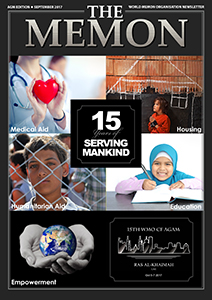 We cordially invite you to the 15th WMO AGM, hosted by the Middle East Chapter in the picturesque Emirate of Ras Al Khaimah, UAE to mark:
15 years of Uniting, Uplifting and Upholding the Memon Community
15 years of Serving Mankind
15 years of Friendship and Camaraderie
15 years of the World Memon Organisation
Welcome to the WMO..
We request you to join us and step out of the twilight, into the bright sunshine so that we can all see the dawn of a new day.
A day when no Memon child would be deprived of an education, no parent would fear for hunger, security or shelter for their family..
A day when the outstretched arms for Zakaat are transformed into hands which uplift and empower.
Insh Allah
We look forward to Welcoming you, as our honoured guests in Ras Al Khaimah!