Recruitment Drive : Global Youth Wing – Europe Chapter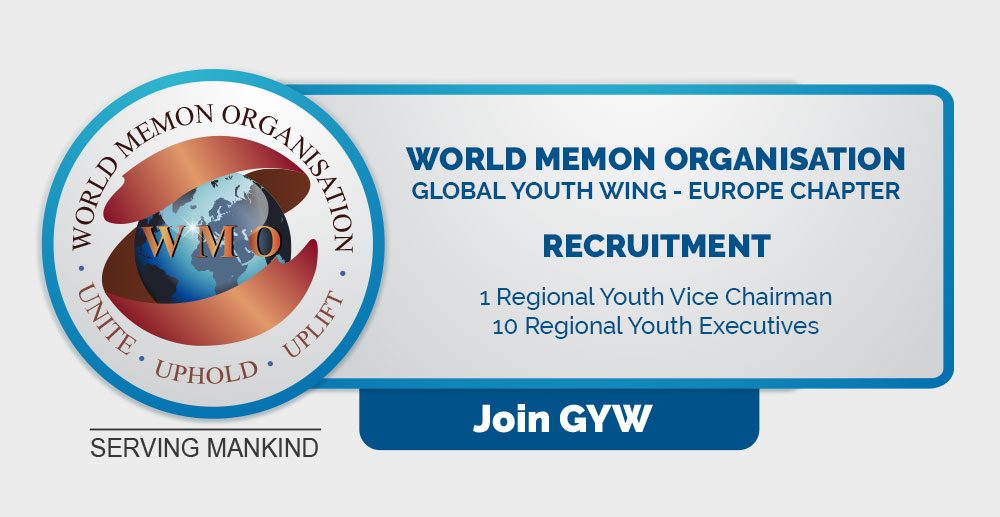 Assalaamu Alaykum
Following up on our highly successful WMO Global Youth Wing ["GYW"] Launch event held in London on Sunday 6th October 2019, we are pleased to announce the commencement of the recruitment drive for One Regional Youth Vice Chairman & 10 Regional Youth Executives in the Europe Chapter.
This is an exciting time for the WMO GYW. As we role out the structure globally we have delivered many projects since 2018 of benefit to Memon Youth. Working together for the rewarding purpose of benefiting our Youth and ensuring they have a platform to network and develop themselves has tremendous value.
Through GYW, Memon Youth have the opportunity to meet (either in person or via video conferencing) to strategize, plan and deliver projects and programs that are fun, entertaining and useful for academic, professional or commercial development purposes.
Memon youth can decide to create, plan and deliver programs, projects and events that they feel are needed by Memon Youth of today in their region.
Please note the deadline for the submission of applications is Sunday 27th October 2019.
Jazaak Allahu Khairun
Wasalaam
Dr Sana Durvesh
WMO Global Youth Wing Secretary
A P P L Y N O W !
SELECTION CRITERIA:
The application process to apply for the position of WMO GYW Regional Youth Vice Chairman and Regional Youth Executive is in the first instance to submit your Curriculum Vitae.
Any Memon Youth can apply who is residing within the European Union and who is aged between 18-40 years. Whilst no other formal qualifications are required for this role, your academic qualifications, experiences and profile will be considered in a reaching a decision.
The prerequisite for these roles are that you are prepared to offer an average of only ONE HOUR of your time per week. This role is voluntary.
Once received, the applications shall be reviewed, and appointments shall be made in accordance with the order and procedure laid out in the WMO Constitution & Standing Orders.
Please send your CV to the following persons and mention which position you are appying for:
Dr Sana Durvesh – WMO Global Youth Wing Secretary
[email protected]
Mr Imran Farook – General Manager WMO
[email protected]
Mr Bashir Sattar – WMO Global Youth Wing Chairman
[email protected]