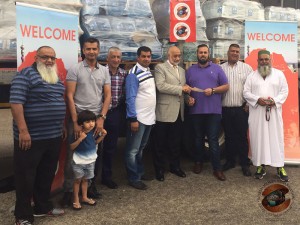 The World Memon Organisation, Africa Chapter has made a notable contribution and donated a truck load of bottled water to bring some relief to the drought affected regions of South Africa.
Due to the scorching summer and lack of rains, many areas of South Africa are severely affected. WMO has contributed to Operation Hydrate, an initiative as the name suggests to provide water to the afflicted residents of those regions.
Mr. Moosa Carrim, prominent member of WMO (Africa Chapter) handed over a cheque of Seventy Three Thousand South African Rands (Zar 73,000) to Mr. Fayyaz Moosa of Operation Hydrate.
We pray the Weather Gods smile soon on South Africa and bless the region with bountiful rains. Our thoughts and prayers are with those who have been affected.