MyownCup Menstrual Cup Project at Kgoro Ya Thuto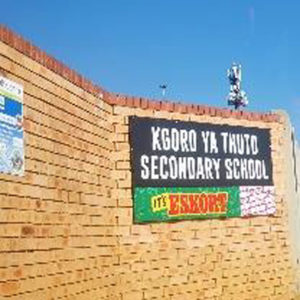 The excitement is palpable at Kgoro ya Thuto High school in Ratanda. Young girls gather with their chairs in the school courtyard and start placing them 1.5m apart. Nothing can stop us from having a success day. Covid protocols are being adhered by learners, teachers and those who are part of the event.MyownCup (proudly supported and funded by Dr Taheera Hassim and WMO), Motsha Teen, AHF, Choma Magzine where all part of the World Menstrual Hygiene Day event. Educating and having an all-round wonderful morning.
The 28th of May is a special day that is observed worldwide. We raise awareness and celebrate Menstrual Hygiene Day on 28th May every year. Have you ever wondered why THIS Day? The reason for THIS day is – May is the 5th Month and the average period lasts for 5 days. It's celebrated on the 28th because the average menstrual cycle 28 days.
We were invited to come to Kgoro ya Thuto by Pretty Kekana, founder of MoTsha Teen who works in the Ratanda area. She asked MyownCup to come and raise awareness on menstrual cups, but also educate young girls on feminine health and hygiene. Like many girls, especially those from extremely impoverished backgrounds, Friday the 28th May was a day of firsts. Having never heard of a menstrual cup before then, it was fascinating to witness their faces as we showed them this little silicone cup that can be used instead of pads and tampons… and then reused for years and years to come! Educating on use of cup is important, but getting the girls thinking is another way that we can try and overcome the stigmas and taboos that are at the root of period poverty.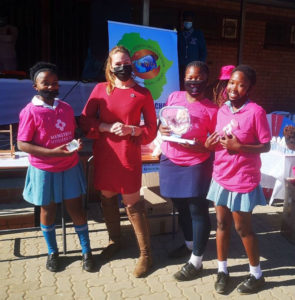 In all sessions / workshops that I conduct, I will always ask girls and women if they "signed" up to get their periods. They reply with a "NO! of course not"! As females, menstruators, vessels that nourish and birth life, we are often faced with challenges we did not sign up for just because we have a uterus. When there is access to disposable products like pads and tampons, there is a huge price to pay – and I do not only mean financially, but those disposables have such a negative effect on our beautiful planet and often on our health – both mental and physically.
Girls and women from impoverished communities often do not think about harmful effects that products containing plastics, BPA's, chemicals, bleaches have on their bodies or on their surrounding environments. When we start this conversation with them, they become aware and realize that there are alternatives, like a menstrual cup, that tackle so many of the problems that we face a female.
Towards the end of the session Cara and Pretty walked around and spoke one on one or in small groups with the girls offering them a menstrual cup if they felt comfortable and wanted to take one. Out of 150 menstrual cups that were funded by WMO, 138 were distrusted along with an educational material. The 12 remaining cups will be taken to the school during the month of June / July (school holiday and COVID permitting) when Cara will be returning to the school to have smaller sessions with girls and get feedback on the use of the cup, and to continue the conversation to normalize and prioritize menstrual health.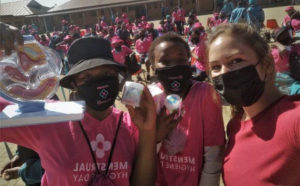 A very heartfelt thank you to Dr Hassim for her continued support and expertise during MyownCup's Menstrual Cup Workshops as well as deep gratitude to WMO who made it possible for MyownCup to attend this event and provide girls with a sustainable and hygienic menstrual product that has the power to change the way they view their bodies and broaden their educational horizons by helping them stay in school.