Micro-Capital Grant Agreement between the U.N.D.P. (UN's Global Development Network) and M.I.T.I. Karachi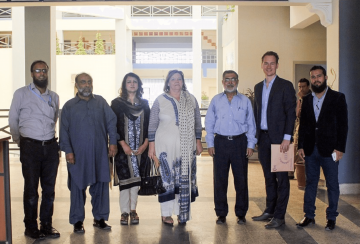 UNDP is the UN's global development network, an organization advocating for change and connecting countries to knowledge, experience and resources to help people build a better life. We are working collectively with the Government and people of Pakistan on developing and supporting nationally-driven solution to development challenges and improving livelihoods and resilience.The UNDP is working with government and people on local solutions to global and national development challenges. UNDP Pakistan is a key to development partner supporting the Government of Pakistan in achieving its own development objectives as well as the internationally agree ,anti-poverty Millennium Development Goals(MDGS)
The goal of UNDP is to support the successive national and provincial government in Pakistan in the formulation of national strategies and policies and their effective implementation. UNDP Pakistan does this through supporting the capacity development of institutions, strengthening community mobilization, assist early recovery from disasters and internal displacement,reducing poverty, ensuring gender equity, improving environmental and climate change management,
advocating and supporting equitable income generation policies and empowering legislature and parliament.
The United Nations Development Program (UNDP) enters into Micro Capital Grant Agreement with the Memon Industrial & Technical institute (MITI).
Under the Youth Employment Project of UNDP, the UNDP has agreed to provide funding to MITI for the training of 620 youths of Korangi, Sultanabad and Lyariareas of Karachi in the following trade : –
Ø Industrial Stitching & Domestic Sewing Operators
Ø Quality Checkers /QC
Ø Dress Making / Fashion Designing
Ø Embroidery
Ø Production Executives/Production and Quality Supervisors
Ø Pattern Making / Grading (manual)
Ø Sewing Machine Mechanics
Ø Youth intern-technical
The agreement is initially for a period of one year from 9th Sept 2015 to 8th Sept2016. UNDP shall provide funds to the MITI amounting to Rs. 6.15m for training 620 students of specific areas.
The equipment supplied by UNDP shall be the property of UNDP until the end of the project. In case where the MITI has met its responsibilities under the agreement, UNDP would normally hand over the assets to MITI.
A copy of the Micro Capital Grant Agreement entered into between the United Nations Development Program and Memon Industrial and Technical institute is attached herewith.
In the last meeting of Regional Management Committee(RMC) of World Memon Organisation, Pakistan Chapter,(WMOPC) held on 12th Sept 2015, at WMO House,Karachi, the details of the Agreement were presented to the members of RMC, WMOPC by Mr. H. M. Shahzad. The members were overwhelmed by the Agreement with UNDP and unanimously congratulated Mr. H. M. Shahzad and his team on this achievement.
To obtain a PDF copy of the the agreement, Click Here.