World Memon Organization North India Chapter (WMO NIC) collaborated with Association of Muslim Professionals (AMP) to organise a Mega WMO-AMP Job Fair in Mumbai and launched the Job Portal – memonjobs.com
On the 4th of January, 2018 the job fair was inaugurated by Mr. Suliman Noor Mahomed (Solly Noor) – President of WMO at the sprawling venue of Rail Nikunj Hall. While speaking on the occasion, the President stated that, "Although WMO was originally created to uphold, uplift and unite the Memon Community, its primary purpose remains to Serve all Mankind. These job fairs serve as the perfect platform to empower all communities by enabling the marginalised to earn a livelihood, provide for their families and live with dignity. It is indeed a great service to the community and the nation."
Mr. Solly Noor went on to appreciate and congratulated the entire team of WMO NIC & AMP for organizing an extremely successful event and welcomed the participating corporate entities. 1800 candidates attended the Job Fair, 310 received job offers and another 643 were shortlisted for the next round of selection.
The job portal – www.memonjobs.com was launched by Mr. Nowsad Gani (Deputy President of WMO). He stated that the website was created with the sole purpose to eradicate unemployment and that all jobseekers would be provided with ample opportunities to work, irrespective of caste, creed or community.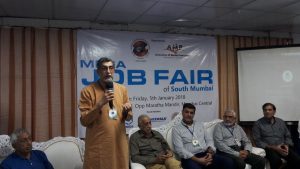 Amongst the WMO dignitaries present on the dias were Mr. Haroon Karim (Chairman-Board of Trustees -WMO), Mr. Ashraf Sattar (Deputy Chairman, Board of Trustees, Mr. Abdul Satar Dada, (Past-President – WMO), Sir Iqbal Sacraine (Former Senior Deputy President – WMO) and Mr. Shahid Sangani (COO-WMO). They applauded the initiative undertaken by the Chapter to provide job opportunities for youngsters of the community and the country. Mr. Haroon Karim stated," Jobs are the greatest weapon in our armoury to fight poverty. Empowering the Youth is Empowering the Nation."
Mr. Ehsan Gadawala (President WMO North India Chapter) said, "We resolve to conduct many such events in the future through AMP's Employment Cell and collaborate with other similar Organisations to serve our fellow countrymen."
Mr. Suhail Khandwani (Patron WMO North India Chapter) added, "We need to create Institutions that will provide sustenance to our youngsters and their families by giving them meaningful jobs."
Mr. Aamir Edresy (President, AMP) elaborated, "AMP has relentlessly worked to empower the Indian Youth over the past 5 years by inviting and prodding Corporates and HR Consultants to offer them job opportunities at our Job Fairs. We are now entering into Partnerships & Collaborations with like-minded organisations such as WMO and various Government agencies, including District Skill Development, Employment & Entreprenuership (DSDE&E) and Maharastra State Skill Development Society (MSSDS) to provide the perfect platform for our youngsters to transform their lives – for the better and significantly contribute to India's growth story. We seek to bridge the gap between the Corporates, Government agencies and the Unemployed & Underemployed youth. We firmly believe in the ideology of Economic Empowerment through creation of job opportunities."
Mr. Razak Shaikh (Head-AMP Employment Cell) emphasised that India, being a country with the largest demographic of youngsters had vast potential to become the Employment Factory to the World. He stated that since its 5 years in existence, AMP had thus far organized 20 Mega Job Fairs and hundreds of Job Drives across 80 AMP chapters in all corners of the country with more than 12,000 candidates receiving jobs.
The event was a roaring success thanks to the dedicated hardwork put in by WMO, AMP and DSDE&E team including Mr. Salim Bandhukia, (Executive Officer WMO NIC), Mr. Soheb Selia (AMP's Organizing Secretary), Mr. Razak Shaikh and Mr. Iftekhar Shaikh (Team Lead, AMP Employment Cell) under whose guidance, the Job Fair Project was organised.
It was indeed

"A Job Well Done"!