MEGA JOB FAIR in MAXIMUM CITY
Empowering the Youth,
Empowering the Nation
On the 8th of December, World Memon Organization North India Chapter (WMO NIC) collaborated with Association of Muslim Professionals (AMP) and Mudassir Patel Foundation to organise a Mega WMO-AMP Job Fair at the sprawling Saboo Siddik College of Engineering in Mumbai.
The sole purpose being to assist the unemployed and under employed youngsters in receiving job placements at mainstream Corporate Entities and to provide job opportunities to the deserving.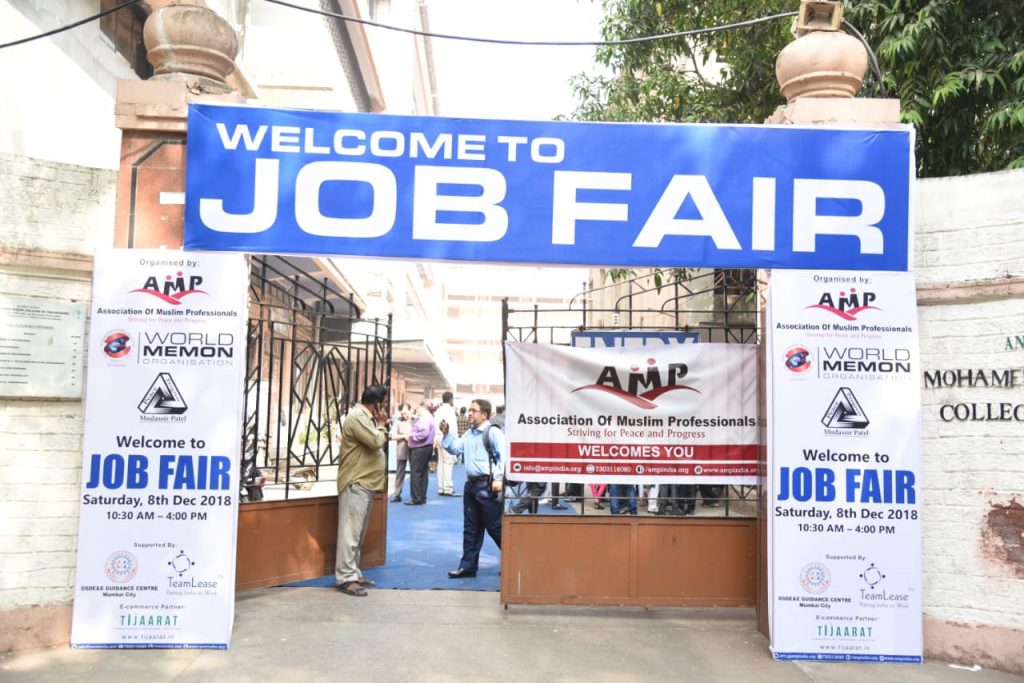 The job fair was inaugurated by Shaikh Aboobackar Ahmad - Founder and Chancellor of Jamia Markazu Saquafathi Sunniyya (Sunni Cultural Centre), Kozhikode, Kerala.
Mr. Haroon Karim (Chairman of WMO Board of Trustees) one of the Chief Guests at the event elaborated, "Although WMO was originally created to uphold, uplift and unite the Memon Community, its primary purpose remains to Serve all Mankind. These job fairs serve as the perfect platform to empower all communities by enabling the marginalised to earn a livelihood, provide for their families and live with dignity. It is indeed a great service to the community and the nation."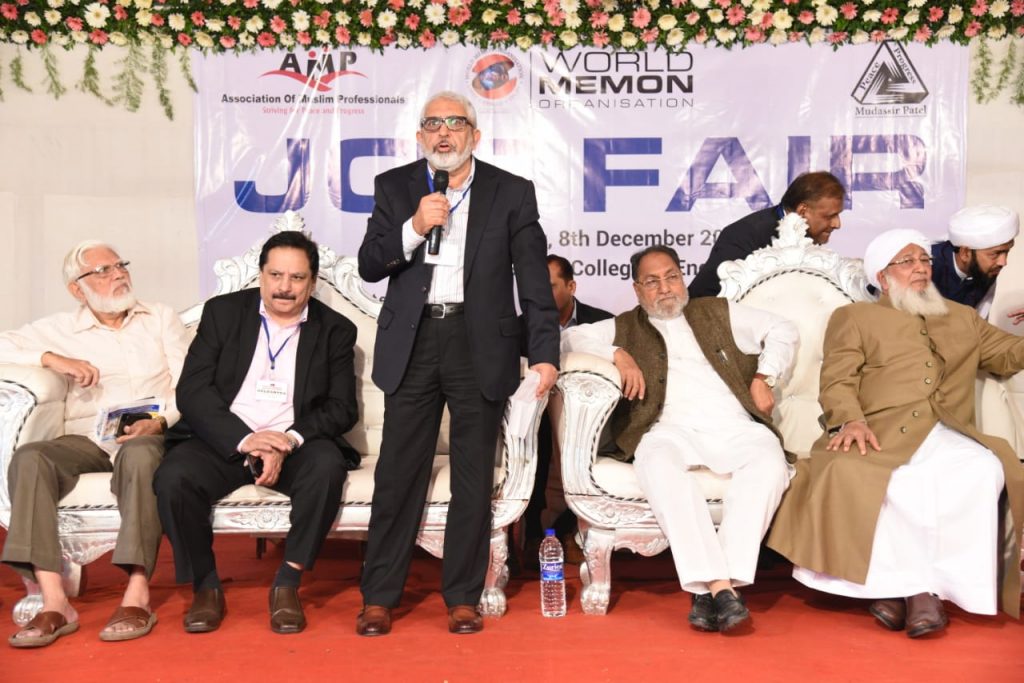 Mr. Haroon Karim  went on to appreciate and congratulated the entire team of WMO NIC & AMP for organizing an extremely successful event and welcomed the participating 80 corporate entities. 2800 candidates attended the Job Fair, 410 received job offers and another 850 were shortlisted for the next round of selection.
Mr. Ashraf Sattar  (Deputy Chairman-Board of Trustees -WMO) applauded the initiative undertaken by the Chapter to provide job opportunities for youngsters of the community and the country. Mr. Sattar asserted," It is the Endeavour of WMO that not a single person in our localities, in our cities, in our country and the world remains without an opportunity to work. Jobs are the greatest weapon in our armoury to fight poverty. Empowering the Youth is Empowering the Nation."
Dr. Zahir Kazi, President, Anjuman E Islam, appreciated the good work being done by AMP and the partner Organisations in creating valuable opportunities for the youngsters of the Nation. He stated "We have created several  Institutes which have featured prominently on the Nation's list of foremost Institutions. We are extremely proud of the fact that Mr. Aamir Edresy is a product of our Institute and is doing this great service to the Nation by providing its youth with gainful employment".
Mr. Ehsan Gadawala (President WMO North India Chapter) said, "We resolve to conduct many such events in the future through AMP's Employment Cell and collaborate with other similar Organisations to serve our fellow countrymen."
Mr. Suhail Khandwani (Patron WMO North India Chapter) added, "We need to create Institutions that will provide sustenance to our youngsters and their families by giving them meaningful jobs."
Mr. Mudassir Patel of Mudassir Patel Foundation, spoke of the meticulous work and planning that went in organising the Job Fair. Right from the painstaking efforts in contacting the Corporates, to ensuring that enough Candidates turn up for the Job Fair. "The successful execution of an event of this scale was due to hard work and an extraordinary team effort, for which we would like to thank AMP and the Co-organisers for putting in their valuable time and effort to ensure a brighter future for our nation's youth."
Mr. Aamir Edresy (President, AMP) elaborated, "AMP has relentlessly worked to empower the Indian Youth over the past 7 years by inviting and prodding Corporates and HR Consultants to offer them work opportunities at our Job Fairs. We are now entering into Partnerships & Collaborations with like-minded organisations such as WMO and various Government agencies, including District Skill Development, Employment & Entreprenuership (DSDE&E) and Maharastra State Skill Development Society (MSSDS) to provide the perfect platform for our youngsters to transform their lives - for the better and significantly contribute to India's growth story. We seek to bridge the gap between the Corporates, Government agencies and the Unemployed & Underemployed youth. We firmly believe in the ideology of Economic Empowerment through Job Creation."
Mr. Razak Shaikh (Head-AMP Employment Cell) emphasised that India, being a country with the largest demographic of youngsters had vast potential to become the Employment Factory to the World. He stated that since its 7 years in existence, AMP had thus far organized 25 Mega Job Fairs and hundreds of Job Drives, across 80 AMP chapters in all corners of the country with more than 15,000 candidates receiving jobs.
 The WMO India Team felicitated several prominent personalities from the city of Mumbai for their extensive humanitarian endeavours including Dr Zaheer Kazi, Dr M. A. Patankar, Mr. Haroon Karim, Mr. Ashraf Sattar, Mr. Asif Bhamla,  Prof H. N. Kalaniya,  Mrs. Zubeida Y Khandwani, Mrs Rubina S Jamkhanawala,  Mrs. Raziya A Chashmawala, Mr. Iqbal H Memon Officer,  Mr. Aftab Badsha, Mr. Asif Furniturewala, Muhammad Siddik Siddique and Mr. Javed Abdul Majid Parekh
The event was a roaring success thanks to the dedicated hardwork put in by WMO, AMP, Mudassir Patel Foundation and DSDE&E teams including Mr. Soheb Selia (AMP's Organizing Secretary), Mr. Razak Shaikh and Mr. Iftekhar Shaikh (Team Lead, AMP Employment Cell) under whose guidance, the Job Fair Project was organised.
It was indeed "A Job Well Done"!