Taking inspiration from the fictional, elderly lady sleuth, Ms. Jane Marple, who was much fond of the art of domestic horticulture, Mrs Aisha Anwar and WMO Ladies Wing Pakistan Chapter  also took a step towards Mother Nature and arranged, for the very first time, a gardening event. The event was two-fold in its purpose; where it was bound to increase the awareness of growing your own vegetables and highlighting the importance of organic produce,thus keeping the surroundings as much green and environmentally friendly as possible, it was also aimed at enrolling new members in the ladies wing.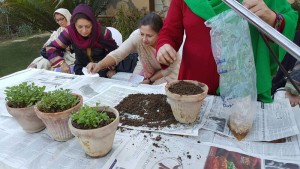 The event was orchestrated in the settings of the pleasant and verdure gardens of Zeba Dawood. The venue served as a fitting venue for the occasion as the place was blooming with flowers, plants and trees. Bejeweling the evening was Ms. Nasreen  Ashraf, who maintains her reputation as an accomplished gardener. Though she started non-challantly, and learnt the tricks of the trade via trial and error. Today, she has become a thorough professional in the field as she makes a kind of organic compost out of her own chemistry, which takes its raw materials from kitchen waste. She is also an authority in making pesticide and fertilizers. Her participation took the event to an altogether different level. She demonstrated the ladies in attendance as to how to prepare soil vegetables, and also emphasized on the post-care methods.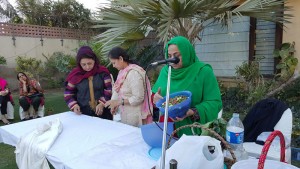 Reinforcing her presence was Mrs. Munira Balagam, who is a well-trained and an ever-ready gardener. She is always forthcoming and very welcoming on the subject of horticulture, and thus did not hesitate to consent her presence in the event. She has been an epitome of success in the field, as she had been able to turn a barren, arid land into a grassy patch across Shaheed-e-Millat Road. On the very evening, she enlarged upon the topic of sowing different seeds. She brought fresh vegetables and enlightened the audience with her recipes. WMO team also got to taste her on the spot salads.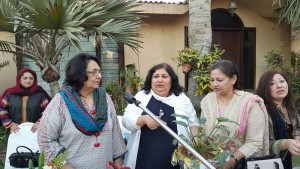 The benign presence of Mrs. Bilquis Tabani turned the occasion into a celebration. Mrs. Bilquis has been designing and decorating stages for a quarter of a century now; and is a established name in interior decoration as well. She has attended copious events both locally and internationally. She put her skill to practice and made a centre-piece out of vegetable and foliage.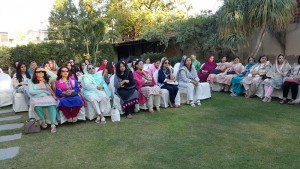 The garden event was very successful membership drive. Two females became members on the spot and many more were interested. In keeping up with the theme of nature, High-tea items like coconut chutney sandwiches, and carrot cake were among the few delights that members and guests enjoyed. Gifts of appreciation were given to demonstrators and Zeba Dawood.