When it comes to sports, Football is one game that is revered as a religion and celebrated across the world. A sport as global as football does not only enjoy wide-spread fame, but also undergoes a lot of variations and modifications; ranging from culture to culture and continent to continent.
One such version is Futsal. Originating in the South-American territory of Uruguay, this abridged version of the game has gone equally viral, if not more, than Football itself. The game does not only cut on the size of the playing-field, but also reduces the playing-side to 5 players aside. Since its inception and amongst the manifold, contemporary versions available, it has, beyond a shadow of doubt, become the most followed and practiced one.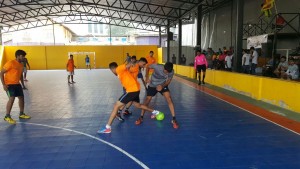 Witnessing the rapid progress of the game, The Far East Chapter of WMO decided to stage the event for the first time in Sri Lanka. And as soon as the public got the wind of the sport being included in the event, umpteen applications flew in. Mr Saad Ahamed (Event Lead) described the response so overwhelming that ultimately they had to structure the tournament into two youth divisions; based on age-groups. The Senior wing of the tournament comprised of 12 teams, which were parsed into 4 groups, whereas the Junior section consisted of 3 teams only.
This footballing extravaganza kicked-off in the pleasant settings of Futsal World, located in the heart of the city at Darley Road on 7th February. The format of the tournament was such that the senior teams started-off playing 2 games each; owing to which the total number of contest for the elderly players went as high as 23. On the other hand, the younger players were not put through much strain as they were only required to partake in 4 matches; followed by a final.

Despite it being an inaugural edition, the event was an instant and  block-buster hit, Crowd turned-out in galore to appreciate the efforts of the players and the event was attended by more than 160 youth of memon community. In the Junior Camp, Master Shuhaib was able to steal the show for his side and was titled the Man of the Final, while the best goalie award was secured by Master Afthab. Amidst the elderly players,  Mr. Shuhail Gadit shell-shocked the opponent with his mesmerizing performance and won the title of Man of the Final. Mr. Amr Khalid who had been an outstanding athlete through-out the course of the event was crowned the Man of the Tournament.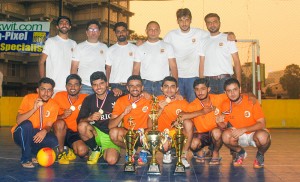 They say,"Sports serve society by providing vivid examples of excellence" and by successfully executing Futsal Championship to bring out the best youth maestros, Saad Ahamed and his team at Far east chapter has set an exemplary benchmark for other WMO youth committees to follow suit.