The Fellowship Dinner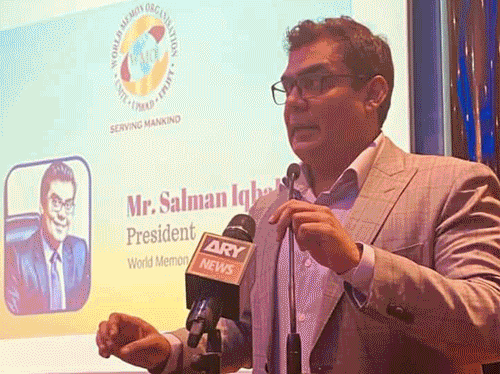 The Fellowship dinner hosted by the World Memon Organisation President, Mr. Salman Iqbal at the opulent Dusit Thani in Dubai was a memorable event.
The distinguished list of Memons from across the globe included doyens of Industry and esteemed WMO Trustees – Mr. Hussain Dawood and Mr. Shoaib Kothawalla. Mr. Ashraf Sattar (Chairman of WMO Board of Trustees) arrived from Sri Lanka, the Pakistan Chapter was well represented by Mr. Shoaib Ismail (Secretary General of WMO Board of Trustees), Mr. H M Shehzad (Vice President WMO Pakistan Chapter) and Mr. Altaf Jangda (Regional Secretary General WMO Pakistan Chapter) while the Indian flag was carried high by Mr. Ehsan Gadawala (Vice President of WMO North India Chapter) and Mr. Suhail Khandwani (Treasurer WMO). Several luminaries and stalwarts of WMO Middle East Chapter made the bulk of the attendees at this dazzling event.
Mr. Ahmed Shaikhani (Vice President – WMO Middle East Chapter) welcomed the august gathering followed by a comprehensive and enlightening presentation by Mr. Shoaib Ismail encompassing the ethos, humanitarian endeavours and noteworthy events organized by WMO since its inception.
Mr. Salman Iqbal took the floor next to launch the "Inspire Card". A card which would connect, communicate and cater to the needs of the marginalised members of the community. He was ably assisted by Mr. Khurram Kalia (WMO Global Youth Wing Chairman) who highlighted the privileges and vast networking potential of the card in conjunction with an upcoming App. [DOWNLOAD PPT]
The evening was testament to the unparalleled generosity of the Memon community which came to the fore as Seven Hundred thousand dollars were pledged towards the many humanitarian causes undertaken by WMO across the globe.
The evening ended with a sumptuous dinner wherein old friends connected over steaming biryani, new friendships blossomed and the genial camaraderie brought cheer all around.
As gracious hosts of another Fellowship event, WMO continues to achieve its objective of fostering friendships, building brotherhood, strengthening relationships and bringing the community closer together.