A Tribute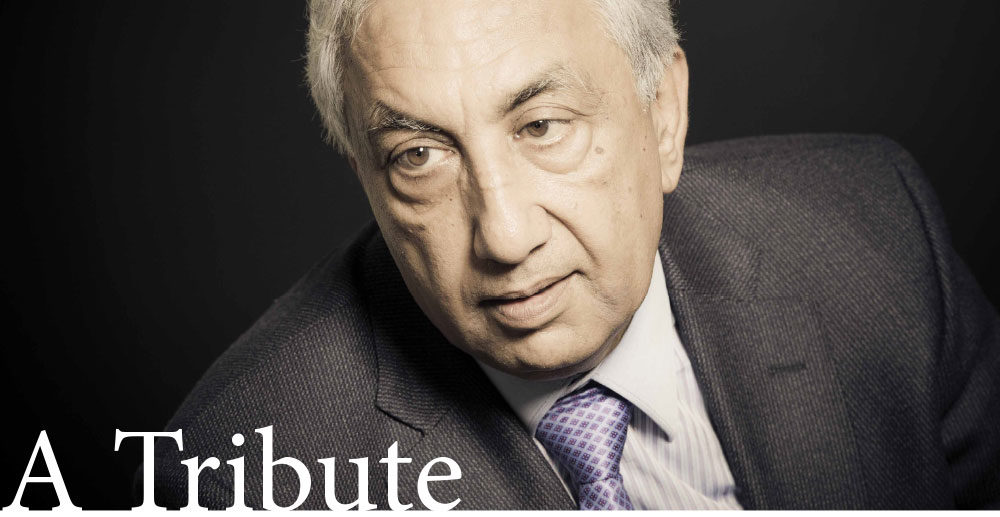 I had the privilege of meeting Mr. Solly Noor in the year 2013. It was the 11th WMO AGM hosted by the Middle East Chapter in the vibrant city of Dubai. As Chairman of Board of Trustees, he was kind enough to allow me to sit through the Trustee meeting, although I wasn't one. This was the beginning of a great many kindnesses, he has graciously extended to me over the years. Our first interaction was brief but he left a lasting impression on me.
The first thing that strikes you about Solly Noor is his exceptional command over the language. The power of the spoken word is undeniable and I had the good fortune to witness an articulate speech by the then WMO President, Mr. Satar Dada in Sri Lanka earlier that year, followed by an eloquent one by Sir Iqbal Sacranie but it was quite apparent that the orator-in-chief of the organisation was undoubtedly Solly Noor. It wasn't just his command over English, he held sway over all proceedings, the discussions, the meetings, even his colleagues and most of the members were under his spell. He had all the answers, as well as the last word!
The second time I met Mr. Solly Noor, it was in my neck of the woods - Mumbai in early 2014. I also had the good fortune to host his wonderful wife, Zohra Noor. A decision had to be made in regards to the leadership of the India Chapter and as usual the responsibility was placed squarely upon his shoulders to make the final call. There were many strong contenders for the top post and I remember one such Indian gentleman who arrived with a large, vocal group of supporters to stake his claim.
I vividly recall the scene. The lone Solly Noor in a tiny conference room, filled with a boisterous, agitated mob clamouring for their man. As usual Mr. Solly Noor was a picture of calm, very relaxed and in supreme command, facing one onslaught after another, he listened patiently to each member of the contingent and all their arguments. I slipped out of the room for a few minutes to get some air as the atmosphere inside was getting heated and claustrophobic. When I returned, the silence was deafening.
The Indian gentleman had dropped his claim for the top post and his bunch of overzealous supporters had gone silent. They were profusely apologising to Solly Noor for raising the decibels and for taking up his precious time.
I never asked him how he did it but only he could have done it!
We met for the third time in South Africa during the latter half of 2014. Solly Noor had been unanimously elected President of the World Memon Organisation and he hosted us in Cape Town. We were spoilt rotten. Walking across the majestic Table Mountain, strolling through the scenic vineyards, whale-watching in the placid waters of Hermanus and savouring gourmet meals at the Waterfront, overlooking the pristine Cape Town harbour. We took in all the glorious sights and sounds that the Mother city had to offer. Solly & Zohra Noor, their daughters Farzana & Tasneem and son-in-law Zuneid were the most gracious hosts.
Capetown also marked the beginning of my friendship with his daughter Farzana - clearly a chip of the old block.
Solly Noor's leadership has transformed WMO. I expected nothing less but it is not his formidable personality, his astute decision making abilities or his visionary ideas that have impacted me most. It is his enduring legacy, the values that Solly and Zohra Noor have inculcated in their children and grandchildren, that have left an indelible mark on me. When I met Farzana and her children, it was quite evident that they were worthy heirs of the sublime Noor legacy. They have inherited his generous heart and kind soul. They exude the same warmth and the rare ability that their patriarch possesses of making others feel special and cared for in his towering presence.
I was touched when he remembered and invited us to join him in celebrating my better half's birthday. I was humbled when he coaxed the gathering to deliver a standing ovation for my endeavours towards WMO and I was very moved when he called me every single day of the week when my father underwent a heart surgery. Our friendship has evolved over time and we now share a special bond. I have always been in awe of the mighty Solly Noor who displays exceptional strength in the face of adversity but it is his kindness that wins you over. The small gestures like a thoughtful message on your birthday, his affectionate words that comfort you during difficult times and his reassuring embrace that I will always be there for you, son. Just his presence in my life, makes me feel blessed.
He is a very special man and as Farzana and her children continue his precious legacy, the name Solly Noor will prevail, long after he is gone. The key to immortality is living a life worth remembering. I will always remember him. I will always remember his kindness.
Mohamed Zubair Chashmawala
Editor in Chief (The Memon)