Empathy is patiently and sincerely seeing the world through the other person's eyes.
Albert Einstein
Empathy would be the perfect word to summarise the Mumbai leg (of the India tour) by the Sri Lankan delegation from the Far East Chapter.
The delegation comprised of:
 Mr. Ashraf Sattar ( Deputy Chairman of the WMO Board of Trustees)
Mr. A.C. Saleem (VP Far East Chapter)
 Dr. Haroon Admani
Mr. Majeed Karim
Mr. Mohammed Shiraz Mohammed Younus
Mr. Mohammed Iqbal Abdul Sattar (Babu bhai)
Mr. Ameen Bhaila
Mr. Yaseen Bhaila
Mr. Razak Osman Hingora
Mr. Shahid Sangani (COO WMO)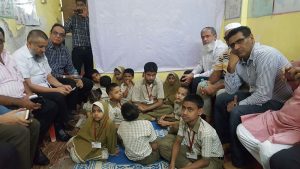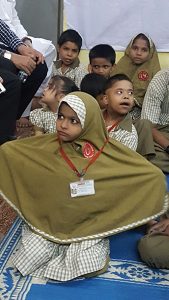 Accompanied by Mr Hamid Nathani ( VP WMO India Chapter ) and his team, the delegates navigated through the narrow lanes of the bustling suburb of Mumbra, to arrive at their destination – The Umeed Foundation. They were warmly greeted by a group of smiling children with special needs. However, their happiness was short lived and their hearts were filled with sadness as they witnessed the living conditions that the young ones had become accustomed to – packed as sardines in tiny rooms of a small apartment….
As their caretaker gave an emotional presentation followed by the children, who stood tall despite their physical challenges and intellectual disabilities. A few tears were shed and many rounds of encouraging applause resonated the room as each differently abled child finished exhibiting his or her remarkable skills.
A Hundred thousand dollars were pledged towards buying a much larger piece of land in the same neighbourhood, for the purpose of building a bigger premise to create an environment more conducive to the children's mental, emotional, psychological and physical needs.
This was just the beginning of their journey..
Next stop was the Rehmania hospital which provided affordable and charitable health care to the poor and needy of Mumbra.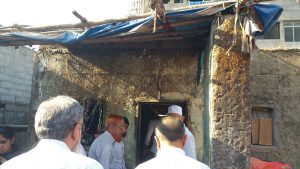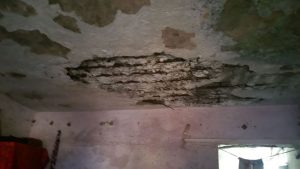 This was followed by a visit to the Memon Colony. The living conditions of the inhabitants were deplorable. Two broken down sheds, each housing several impoverished members of underprivileged Memon families. The roof was about to collapse and the walls were crumbling. An open drainage lay a few feet away as children played in uninhabitable and unhygienic conditions. They spoke of disease and death, while education was unheard of and the greatest concern was they didn't know where their next meal would come from!
Thirty Thousand dollars were pledged towards housing and more contributions were promised in the future.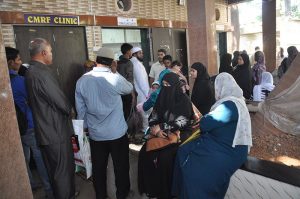 The next day, the delegation visited the Khidmat trust in the heart of Mumbai. The Khidmat charitable trust has been in existence for over 2 decades, providing effective medical and health care to the underprivileged across India. The place was buzzing with hundreds of applicants as well as the ailing. From free medicines to diagnostic tests, from providing kidney dialysis to a sizeable number of afflicted brothers and sisters at zero costs, to making life saving surgeries possible for the less fortunate. Everything and everyone was being taken care of, under one roof and in record time.
"We support Life. We strongly believe that every human being has the right to quality medical care. Our vision is a World without suffering." asserts Mr. Hamid Nathani who is an integral part of Khidmat trust.
Another Thirty Thousand dollars was earmarked towards Khidmat.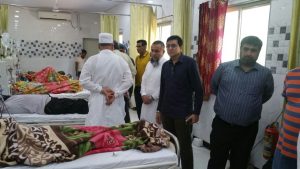 The magnanimous donors from Sri Lanka kept widening their circle of compassion and embraced all. They listened patiently to the distraught inhabitants of the Memon Colony, made an emotional connection with the little angels of Umeed and gave out a loud and clear message to the suffering at Khidmat – You are not alone.
Empathy is about standing in someone else's shoes, feeling with his or her heart, seeing with his or her eyes. And as empathy is born out of the old biblical injunction 'Love the neighbour as thyself.' We Indians express our heartfelt gratitude to our Srilankan counterparts for their time, effort and generosity. We are grateful to you for standing shoulder to shoulder with your neighbours and understanding our needs.
For your warm friendship, camaraderie and brotherhood but more importantly, for your empathy.
THANK YOU!