A Roti , A Lady and A Mission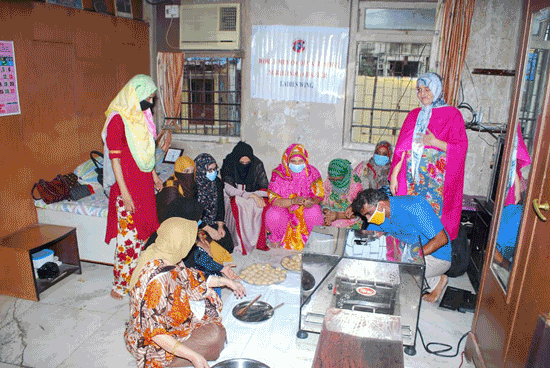 At the outset let me explain to you the significance of the 𝙍𝙤𝙩𝙞 in the Indian Subcontinent. The circular flatbread made from wheat flour is the staple food of Indians across the nation. It has pride of place in the most popular slogan of Indian Socialism – 𝙍𝙤𝙩𝙞, 𝙆𝙖𝙥𝙙𝙖𝙖 𝙖𝙪𝙧 𝙈𝙖𝙠𝙖𝙖𝙣 where the Roti epitomizes food while the other two symbolise clothing and shelter respectively. Perhaps a befitting slogan for Humanity too as it depicts the basic needs of human beings from around the World.
Now let me introduce you to 𝑴𝒓𝒔 𝑹𝒂𝒛𝒊𝒚𝒂 𝑪𝒉𝒂𝒔𝒉𝒎𝒂𝒘𝒂𝒍𝒂 (Co – Chairperson of WMO North India Chapter Ladies Wing) who is the pioneer of Women Empowerment in the Indian Memon Community and her collaboration with the invaluable "Roti".
After receiving a Roti Making machine courtesy the generosity and steadfast support of the WMO North India Chapter VP – 𝑴𝒓. 𝑬𝒉𝒔𝒂𝒏 𝑮𝒂𝒅𝒂𝒘𝒂𝒍𝒂, Mrs Chashmawala has embarked on a mission.
15 underprivileged women working out of a tiny room in the far flung suburbs of Mumbai have established a Roti Bank Project. The Roti Making machine has enabled them to make hundreds of Rotis in a short span of time. Tiffin services, deliveries to restaurants and homes, more importantly the Rotis are being sent to hospitals to feed the ailing patients.
𝙏𝙝𝙖𝙣𝙠𝙨 𝙩𝙤 𝙩𝙝𝙚 𝙞𝙣𝙙𝙞𝙨𝙥𝙚𝙣𝙨𝙖𝙗𝙡𝙚 "𝙍𝙤𝙩𝙞", 15 𝙢𝙖𝙧𝙜𝙞𝙣𝙖𝙡𝙞𝙨𝙚𝙙 𝙬𝙤𝙢𝙚𝙣 𝙖𝙧𝙚 𝙚𝙖𝙧𝙣𝙞𝙣𝙜 𝙖 𝙡𝙞𝙫𝙚𝙡𝙞𝙝𝙤𝙤𝙙, 𝙨𝙪𝙨𝙩𝙖𝙞𝙣𝙞𝙣𝙜 𝙩𝙝𝙚𝙞𝙧 𝙛𝙖𝙢𝙞𝙡𝙞𝙚𝙨, 𝙥𝙧𝙤𝙫𝙞𝙙𝙞𝙣𝙜 𝙩𝙝𝙚𝙞𝙧 𝙘𝙝𝙞𝙡𝙙𝙧𝙚𝙣 𝙬𝙞𝙩𝙝 𝙖𝙣 𝙚𝙙𝙪𝙘𝙖𝙩𝙞𝙤𝙣 𝙖𝙣𝙙 𝙚𝙣𝙨𝙪𝙧𝙞𝙣𝙜 𝙖 𝙡𝙞𝙛𝙚 𝙤𝙛 𝙙𝙞𝙜𝙣𝙞𝙩𝙮.
Courtesy the Tiffin services, they are also supplying a staple diet to thousands of lower, middle class salaried men and women who have to rush to work every morning and don't have the time or means to enjoy a homemade meal every day.
And then the hospital service where thousands of ailing human beings are provided nourishment on a daily basis. A time when hospitals are overwhelmed and reeling under the impact of the Corona pandemic.
As Raziya Chashmawala so aptly puts it, "𝙏𝙝𝙚𝙧𝙚 𝙞𝙨 𝙣𝙤 𝙜𝙧𝙚𝙖𝙩𝙚𝙧 𝙛𝙤𝙧𝙘𝙚 𝙩𝙝𝙖𝙣 𝙖 𝙬𝙤𝙢𝙖𝙣 𝙙𝙚𝙩𝙚𝙧𝙢𝙞𝙣𝙚𝙙 𝙩𝙤 𝙧𝙞𝙨𝙚. 𝘼𝙨 𝙬𝙚 𝙖𝙡𝙡 𝙧𝙞𝙨𝙚 𝙗𝙮 𝙡𝙞𝙛𝙩𝙞𝙣𝙜 𝙤𝙩𝙝𝙚𝙧𝙨 𝙩𝙝𝙧𝙤𝙪𝙜𝙝 𝙩𝙝𝙚𝙨𝙚 𝙚𝙣𝙩𝙧𝙚𝙥𝙧𝙚𝙣𝙚𝙪𝙧𝙞𝙖𝙡 𝙞𝙣𝙞𝙩𝙞𝙖𝙩𝙞𝙫𝙚𝙨."
We can only nod in agreement and applaud Raziya Bai, the empowered ladies, Ehsan Gadawala and the humble but mighty Roti.