The Ummeed Foundation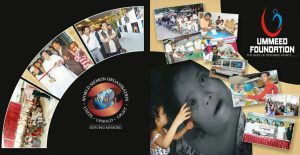 Ummeed means Hope.
The name is quite appropriate for a foundation that supports differently abled children, as circumstances often demand infinite hope in moments of perennial despair.
Ummeed foundation is located in the bustling suburb of Mumbra, around 40 kms from Mumbai, India. Mumbra is densely populated with members of the Muslim community, a majority of whom live in abject poverty. Although the foundation consists of a small appartment with tiny classrooms, it remains the only beacon of hope for hundreds of underprivileged Muslim families.
Ummeed not only serves as a school but also a sanctuary for children with special needs.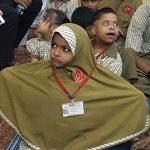 "Special needs" is an umbrella underneath which a staggering array of diagnoses can be placed. Children with special needs may have mild learning disabilities or profound cognitive impairment; food allergies or terminal illness; developmental delays that catch up quickly or remain entrenched; occasional panic attacks or serious psychiatric problems.
In spite of it's limited resources and a space crunch, the Ummeed foundation boasts of a team of specially trained teachers and professionals that are well equipped to impart lessons and cultivate skills that help the children to overcome these challenges. In many instances, the foundation even provides free medical and health care to the children, along with counselling for their parents.
When Ummeed was established in 2011, the greatest hurdle the foundation faced, were the parents. They were already reeling under the burden of financial constraints and had to additionally support and care for a handicapped child. The innocent children bore the brunt and were often subjected to violent physical abuse – some were even tied up and locked away.
After lengthy discussions and parent counselling – the first challenge had been overcome. Parents finally understood that their children needed their constant love, support and encouragement if they were to survive in society.
Ummeed was established on the firm belief that most of the children can become an active part of society and reach their full potential, if given a chance. Each year the foundation strives hard to achieve that objective.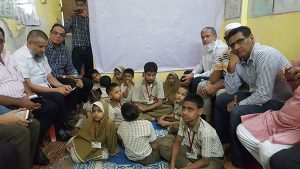 A delegation of the World Memon Organisation from the Far East Chapter, personally visited Ummeed and witnessed the brilliant work being done under its banner. They were saddened by the crammed spaces that packed the children like a tin of sardines, within the confined walls of the school and immediately pledged ONE HUNDRED THOUSAND DOLLARS towards the foundation. The generous contribution will enable them to buy a much larger piece of land in the same neighbourhood, for the purpose of building a bigger premise to create an environment more conducive to the children's mental, emotional, psychological and physical needs.
The World Memon Organisation stands firm with Ummeed in their resolute efforts to support the children with special needs. If we can bring a smile on the faces of these little angels, if we can play a small role in making their lives a bit better, if we can provide them with a brighter future, if we can care for them, enough to help them learn, grow and live their lives to the fullest; then we can proudly say that we have made a DIFFERENCE.
The Ummeed foundation has given us that hope and hope springs eternal!