Empowerment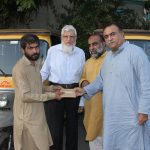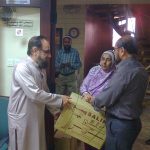 In the year 2011, Mr. Mohammed Farooq Ahmed approached the World Memon Organisation, Pakistan Chapter, with the proposal to initiate a Rozgar Scheme wherein CNG Auto Rickshaws and Sewing Machines were to be provided to the underprivileged families of the Pakistan Memon Community for the purpose of earning a livelihood with dignity.
Until Dec 2016, 142 CNG Auto Rickshaws and 682 sewing machines have been delivered to the poor and deserving families across Pakistan.
Given below are the details of yearly distribution of Rickshaws and the costs.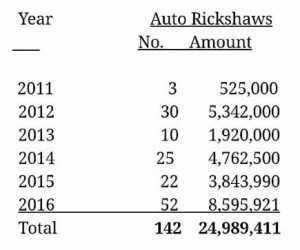 Uptil now, 142 families have benefited under this scheme at the cost of almost 25 million rupees.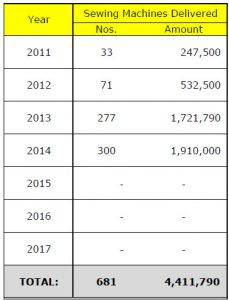 Sewing machine breakup
681 sewing machines have also been distributed under the Empowerment program at a cost of 4.5 million. Hundreds of underprivileged ladies are standing on their feet, providing for their families, educating their children and living with dignity. Alhamdulillah, the World Memon Organisation along with Mr. Mohammed Farooq have achieved their objective of empowering almost a 1000 deserving families of Pakistan since they initiated the program in 2011.
Contribute generously towards the cause of Empowerment and donate a rickshaw or a sewing machine to an underprivileged family in Pakistan.
Rickshaw Rs. 175,000
Sewing machine Rs. 6500
The Community Man and pioneer of the Rozgar program:- Farooq, along with both his sons have done extensive philanthropic work for the Memon Community in particular and humanity in general. Farooq has initiated the Rozgar scheme under the banner of the World Memon Organization (WMO) to enable underprivileged families to earn money with dignity rather than seek financial help month after month and year after year. WMO Pakistan Chapter, with assistance from the Farooq family, has thus far distributed more than a 140 Auto Rickshaws and over 650 Sewing Machines to deserving Memon families in Karachi. The objective of the program is MEMON EMPOWERNMENT. Today, hundreds of families are benefiting from this program and are standing on their feet, thanks to Farooq and Sons.
A few words from our generous benefactor.
I cannot vividly recall the day my father died. I was very young and still studying in school. But I distinctly remember the hardships we faced after we lost him. I remember the undaunted courage, my mother displayed in trying circumstances. Her firm resolve that all her children must pursue their education. I remember doing odd jobs to pay for night school, receiving my Masters in Businesses Administration and scaling the greatest heights of success in both the corporate and business world.

Today, when I help an underprivileged mother with a sewing machine or present a less fortunate family with an auto rickshaw, the objective remains the same. I enable them to earn a living, to provide their child with an education.

I can relate to the trials and tribulations of a resolute mother. I clearly understand her need to make those umpteen sacrifices to educate her children. And I can finally grasp the true meaning of those immortal words spoken by the great Nelson Mandela. "Education is the most powerful weapon which you can use to change the world."

Because I am it's living embodiment!"

Mr. Mohammed Farooq