Dinner Reception Hosted in Chicago to Honour visiting Secretary General of WMO, Mr. Shoaib Ismail Mangroria.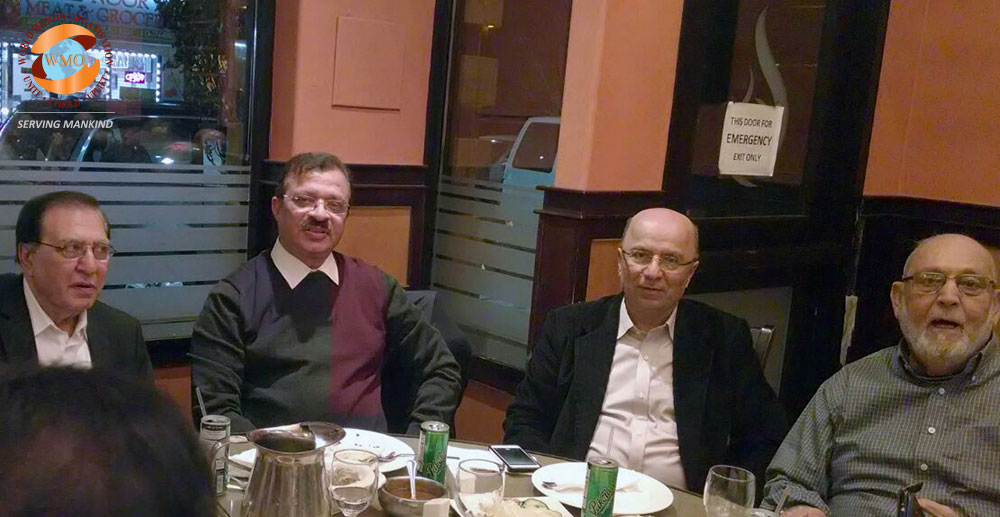 A Dinner Reception was hosted by the World Memon Organization, North America Chapter in honour of visiting Secretary General, World Memon Organization, Mr. Shoaib Ismail Mangroria on the 28th of December 2016 at Sabri Restaurant, Chicago.
The program began with a recitation from the Holy Quran by Assistant Secretary General of WMO North American Chapter, Brother Bashir Akuly. Thereafter, he introduced the Vice President of the Chapter, Mr. A. Ghaffar Variend, and requested him to deliver his welcome address.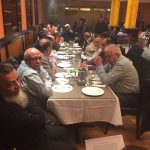 Mr. A. Ghaffar Variend thanked Mr. Shoaib Ismail for visiting WMO North America Chapter. He recalled their recent bonding at WMO's 14th Annual General Meeting in Dubai. He elaborated on the global endeavours of WMO and the services rendered by North America Chapter.
In his speech, Mr. A. Ghaffar Variend quoted some of the excerpts from WMO President, Mr. Suliman Noor's welcome note:
If you are a Visionary, we will share your vision
If you are an Idealist, we will share your dreams.
If you are an Optimist, we will share your joy.
If you are a Pessimist, we will share your concerns
If you are a Humanitarian, we will share your cause.

If you want to be a part of a worthy cause this is the place for you. You can join our humanitarian endeavors to promote education, housing, rehabilitation and numerous other welfare projects to Uplift, Uphold, Unite and Serve Mankind

If you are an entrepreneur this is the place for you. Learn from the best business minds from around the world and build a global network
.
For all you youngsters, if you are proficient in sports, this is the place for you. WMO has hosted a wide array of sports events in all corners of the globe. The Memon Premier League is a prime example of organising a spectacular sporting Championship on an international level for the connoisseurs of cricket.

We will encourage your Dreams Applaud your Accomplishments and Fulfil your Aspirations.

Welcome to this place where you will meet respected philanthropists, humanitarians, dignitaries and doyens of industries, the crème de la crème of the Memon community from around the globe.

Welcome to this place where you can serve not only the community but also humanity.

Welcome to this place where you will not only live a wonderful life but prepare for an even better Akhiraah
The Vice President, in his speech highlighted the future plans of WMO North America Chapter, which included:
To start work on the first Memon Community Centre in Chicago in the year 2017-18, followed by launching of the Houston, New York and Los Angles centres in the upcoming years
Head Office of WMO NA to be established at the Chicago Centre and setting up of Regional centres in other cities
Free advice and guidance for Education, Immigration, Citizenship, Medical Services and Social Security to community members
Free Tax Returns Filing for seniors and unemployed community members
Free Clinics for persons with no Health Insurance with a very minimum co-pay
Seniors and Ladies Activities
Youth Activities and Cricket Club
Banquet Hall
He emphasized that all of the above would be possible, if WMO North America Chapter is provided financial support from the community, as well as commitments from affluent Memon businessmen and families across North America, by way of generous donations and membership.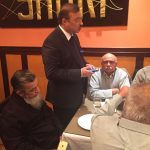 He introduced visiting WMO General Secretary Mr. Shoaib Ismail Mangroria to the audience, and then requested him to address them. Mr. Shoaib Ismail Mangroria started his speech by thanking the Vice President, Mr. A. Ghaffar Variend, General Secretary Mr. Bashir Akuly, Internal Auditor, Mr. Feroz Aboobaker Khadbai, Observer, Mr. Qasim Moosa Lawai, Chicago Memon Jamat President, Mr. Farooq Sardharia, other honorable guests and all the members that had gathered over dinner.
He stated that our forefathers have laid the foundation of this benevolent humanitarian work and it is incumbent upon us to continue in their footsteps to Serve Mankind. "WMO is the dream envisioned by the five founding members of the organisation namely (Late) Haji Abdul Razzak Yakoob, (Late) Latif Ibrahim Jamal, (Late) Abdul Razzak Tasty, (Late) Adam Noor and (Late) Aboobaker Kassam Pardesi. Together, they came up with the idea to create a global Memon Organisation, which has now become a reality. Presently we are working through 7 chapters worldwide comprising of Pakistan, India, the Far East, the Middle East, Africa, Europe and North America." He went on to cite the humanitarian projects of WMO, including Housing, Education, Vocational Training, Micro finance, all of which were possible due to generous donations and Zakat funds provided by Memons across the globe. "In Pakistan chapter itself, 11,000 school going students are an integral part of the WMO bursary program, around 700 for higher education and more than 70,000 students are standing on their feet, courtesy vocational training provided by the Memon Industrial and Technical Institute, MITI. Similar projects are carried out In India and Sri Lanka too. WMO has a disaster Relief program to cope with catastrophes such as the 2008 Earth Quake in Pakistan, recent floods in Malawi and Sri Lanka and the Refugee Crisis in Syria. WMO has successfully completed 15 years of service to Humanity."
"WMO is the Umbrella organization of Memons worldwide. It must be noted that WMO, along with furtherance of humanitarian causes, also builds bridges and connects Memons across the globe. It gives pride of place to its ladies and youngsters who form an integral part of the organisation.
Last year we held the sophomore edition of the spectacular MPL Cricket tournament in Sri Lanka which draws youngsters from all corners of the globe.
We also have a very active ladies committee, which is presently working on myriad projects, including women empowerment and matrimony.
Recently WMO held its highly successful 14th Annual General Meeting, which translated into the largest gathering ever since its inception. All seven chapters and more than 200 members participated. Alhamdulillah, Memons from Lesotho, Indonesia, Portugal and Uganda were also present. I cordially invite all of you to attend our next Annual General Meeting in 2017, once again in vibrant Dubai, where you will be our honoured guests. In the end, I thank you for welcoming me to the beautiful city of Chicago and honouring me with this warm reception. Thank you very much, Jazzak Allah."
Later, the Chicago Memon Association President, Mr. Farooq Sardharia, thanked the visiting General Secretary of WMO, Mr. Shoaib Ismail Mangroria, Mr. A. Ghaffar Variend, Mr. Feroz Aboobaker, Mr. Qasim Moosa Lawai, Mr. Ahmad Jangda, distinguished members of Chicago Memon Association and lauded WMO's global endeavours. He urged all members of the Chicago Memon Association to assist WMO in their worthy causes and promised steadfast support for all future activities.
Finally, Mr. Bashir Akuly thanked everyone for participating in this program, and thereafter, dinner was served. WMO Vice President, Mr. A. Ghaffar Variend personally thanked every guest for their valuable time and support.
The program eventually concluded at the stroke of eleven bringing to an end, a very warm reception in freezing Chicago.